Title: Don't Breathe a Word
Author: Holly Cupala
Release Date: January 3, 2o12
Publisher: HarperTeen
Source: Around the World ARC Tours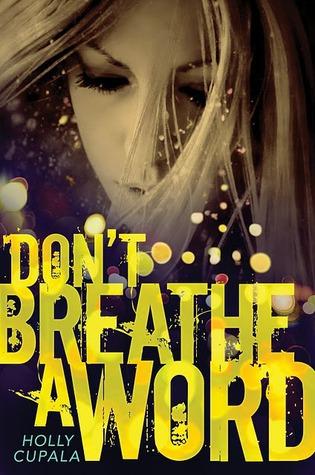 Synopsis (Via Goodreads): 
Joy Delamere is suffocating... 
From asthma, which has nearly claimed her life. From her parents, who will do anything to keep that from happening. From dangerous Asher, who is smothering her from the inside out.
Joy can take his cruel words until the night they go too far.
Now, Joy will leave everything behind to find the one who has offered his help, a homeless boy called Creed. She will become someone else. She will learn to survive. She will breathe…if only she can get to Creed before it's too late.
Set against the gritty backdrop of Seattle's streets and a cast of characters with secrets of their own, Holly Cupala's powerful new novel explores the hurt of bullying, family strength and endurance, and how far a girl will go to discover her own strength.
In a Sentence: 
Don't Breathe a Word was gritty and heartbreaking, but also an amazing book that should not be missed.Review: I love contemporary novels, and it's no surprise that I loved this book too. The cover is what attracted me to this book, I mean, just look at that cover, but the story was even better.


I felt so bad for Joy, and I honestly can't blame her for running away. Her boyfriend was abusive and possessive, her parents were too overprotective, and she could hardly breathe--literally

and

 figuratively. Joy made a huge decision to leave everything behind and live on the streets, and I admired her strength and her willingness to do what she needed to to survive and try to create a better future for herself. Speaking of characters, each character is crafted wonderfully. You can see each person's struggles and inner demons throughout the book, and why and what they left behind in order to live on the streets.




The writing was beautiful and real. Cupala doesn't sugarcoat the characters she's created or the harsh reality they live in. I especially loved the flashbacks and seeing how everything developed just to have it all unravel, leading to why Joy ran away.




The only thing I think I didn't like about this book was the ending. It just seemed a bit too... perfect. Granted, I like happy endings, and I wanted the characters to have endings to be on the happy side, or at least leaving hope that things would be better soon, but I think the ending should have been a bit different. Besides that, I really can't complain about anything else in this book.




Overall, this was a powerful contemporary, and don't forget to pick it up in stores in January.

✰✰✰✰ and ½




➍.➄

S

T

A

R

S
Cover Thoughts: 5/5 Beautiful. Love the font, the bokeh, the girl's face.