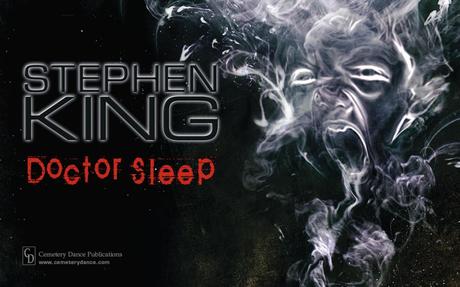 I love Stephen King. I love his books, I love the mini-series based on his books, I love the movies based on his books, and now I can say I even love his TV shows based on his books. His stories are usually built in a rich tangible world dripping with eerie symbolizing and creeps lurking in the dark corners. He tends to be imaginative and inventive and in the case of Doctor Sleep this was no exception.
I love The Shinning, but what horror fan doesn't? It has everything that a good creepy story requires-ghosts, abandoned hotel, crazy parents, and creepy kids. It has also spawned two film versions. The most famous starring Jack Nicholson is a classic and must see. When I heard that King was writing a sequel to this classic I was shocked and excited. The Shinning was the third book he published and he hasn't really ever done a sequel to a novel with only two exceptions that I'm aware of Talisman and the Dark Tower series.
Doctor Sleep in my mind is the story of three characters and how their lives intertwine with each other. The main character is Danny Torrance from The Shinning. Most of the book follows an adult Dan, but we do get some more insight and direct Overlook aftermath at the beginning of the book. I love what King did with the character. He has his demons(some actual demons) and a dark past because of his alcoholism. His journey through AA and his sobriety are huge plot points in this book that really grounded this supernatural story and made it real for me.
The second "good" guy is Abra. We meet her as an infant and follow her story through her young adolescence. King created a great partner for Dan in Abra. She has a great rich history of her own. She is extremely powerful with her own shinning. One of my favorite parts of the book was the relationship between Dan and Abra. It was genuine and sweet. Two people who really could only be understood by the other.
The last is Rose The Hat. She is the main villain and leader of the True Knot. This group was so ingenious. King took an age old story of a simple vampire and updated, changed and expanded on to place them as the perfect antagonist to this story. Their obsession with steam and bohemian life style makes them seem like extremely dangerous drug addicts that will stop at nothing for their next fix. For me this played so well against the now sober Dan. I loved the symbolism between the two.
This book plays out more like a thriller instead of a stereotypical horror book. I actually enjoyed how different it was in tone and story telling from The Shinning. Someone who had never read the original could pick this up and enjoy it for what it was, but there are enough nods to the original that hardcore fans should be satisfied. The story was fresh and exciting. I was on the edge of my seat and couldn't put it down once I hit the last third of the novel. This is a must read for any King fan or anyone looking for an exciting different novel with supernatural elements.
I can't wait for its eventual movie adaptation! Although after watching this summer's hit Under the Dome I would almost prefer a TV series in that style for this stories live action adaptation. The book covers such a huge span of time and has so many characters it would really a perfect story for a mini-series type TV show.
You May Also Enjoy:
Spooky Bookshelves!

Horror Novel Review: "The Langoliers" by Stephen King

Guest Blog: Horroracle's Favorite Vampire Movies

Review Mash Up: The Walking Dead, Graphic Novels, T.V. Show, & HHN Maze

Horror Author Feature: Stephen King by Andrew Sturm

The Walking Dead Season 3

Review: Northern Bites by Nikki Jefford

Review: Rot and Ruin (Benny Imura #1) by Jonathan Maberry