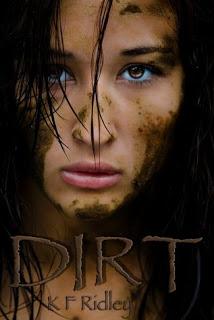 Dirt
(Dirt Trilogy # 1)
by

K. F. Ridley
(young adult, paranormal, fantasy)
Published:

12

-12
Publisher:

Little Roni Publishers
Paperback:

203

pages 
Purchase: $5.

9

9 on Amazon (at time of post)
3

stars


Synopsis
From another world, they came for her blood.
Up until now, my life has been simple,
uncomplicated, but because of what I am,
everything is about to change. In fact, things are about to get deadly.
Faeries are real and they want my blood. To make matters worse, I'm falling for one of them.
In a mythical and magical world, I'm about to discover the secrets of my past and the truths of my existence. At least, that is, if I can survive.
Review
I love this cover! Maybe it's just me but I find dirt/sweat kind of appealing so to me the dirt makes this chick even hotter. And duh, Dirt is the title and there's dirt on her? Awesome how that worked out.
The characters were okay. I didn't really connect with any of them except Ashe's best friend but that doesn't surprise me because I always tend to bond more with the snarky best friend instead of the main character. I dunno, I'm crazy like that. I felt that the romance was brought on too fast but that also doesn't surprise me. I've seen more an more of that lately in my reading. And hey, maybe it's really popular and people love when it happens, but I'm not one of them. I prefer a little cat and mouse game, maybe a few mo

nths of knowing each other first. But... to each his own.
I thought the story was pretty unique. I think I've read one fairy book aside from this and it was way different so I can't really compare it to any others. It kept me entertained, I enjoyed reading it, but it didn't have the IT factor I look for. There seems to be a lot of s

tories like it around right now with different paranormal creatures, but

I'd probably read the rest in the series just to find out what happens. 
Author
[blog][facebook][twitter][goodreads]
And thennn..
Is it just me or do sooo many YA novels have a fast acting romance? Am I the only person who thinks it's a little crazy? Tell me about it!
DISCLOSURE: All of the reviews posted are my opinions and mine alone. I am in no way paid for them. Every book reviewed was either purchased by me, received for free directly from the publisher/author specifically for review or received via: