I was shocked the other day when I realized that I've never done a review of Curls Créme Brule. It's one of the few natural hair products that has decent ingredients, that my hair likes and you can find everywhere.
Curls Créme Brule Whipped Curl Creme $10.90 (8 oz.)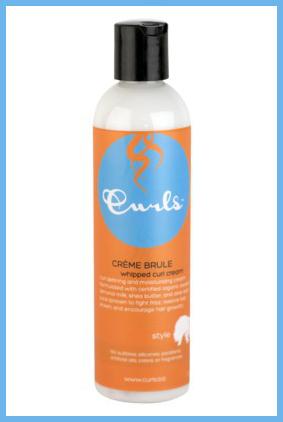 Ingredients
Water, Aloe Barbadensis Leaf Juice, Glycerin, Helianthus Annuus (Sunflower) Seed Oil, Glycine Soya (Soybean) Oil, Ethylhexyl Palmitate, Glyceryl Stearate, Tocopherol, Allantoin, Certified Organic Butyrospermum Parkii (Shea Butter), Certified Organic Prunus Amygdalus Dulcis (Sweet Almond) Oil, Stearic Acid, Cetyl Alcohol, Sodium Carbomer, Potassium Sorbate, Fragrance, Phenoxyethanol, Caprylyl Glycol.
I use this product primarily as a mid-week moisturizer and re-styler. (It's great for dry twists and bantu knots). The ingredients in this product are mostly good, but I am not crazy about the Phenoxyethanol as a preservative. (It is at the bottom of the list though).
I have also used this product when my hair is damp right after washing it, as a leave-in, or to achieve my new favorite style a bantu knot-out! (More on that soon!) It's also good for softening up stubborn edges when pulling my hair back. It doesn't have any real holding power on my hair though, so I usually use it in conjunction with a light gel like this one
Overall it's a good product, and easy to find if you're traveling and left your regular products at home, or you want to try something new that will be relatively gentle on your hair.
RATING: 5 Smart!* – Great product, mostly good ingredients, great price, multi-use!

You can find this and other Curls products in the beauty section of most drugstores, Target, beauty supply stores and at Curls
*Savvy Ratings: 5=Savvy 4=Smart 3=Suitable 2=Satisfactory 1=Stupid
• Have you used this product? What do you think?