Affordable, funny shirts for the whole family!
I was recently sent a couple shirts from CrazyDogTshirts.com. Here are the two I chose!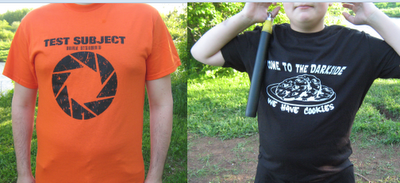 Test Subject T-shirt and Come to the Darkside T-shit
My boyfriend and little brother modeling the shirts, the boyfriend wasn't too excited about having his picture taken, my brother on the other hand is in the process of posing, with his chucks of course.
I was so excited to find the Test Subject shirt in the Graphic T-Shirts section, my boyfriend and I are both huge Portal fans and my lil bro loved 'Come to the Darkside, We have Cookies', it was perfect for him since he is a big Star Wars fan! I found his in the Kids T-Shirt Section. The shirts are so comfy and exactly as described. They are very affordable too with tons of shirts at just 15.99 and some as low as $9.
CrazyDogTshirts have also offered a $15 dollar giftcard to one lucky reader! You can enter using the form below!
a Rafflecopter giveaway
*I was sent a two T-shirts in exchange for a review, all opinions are 100% my own.*