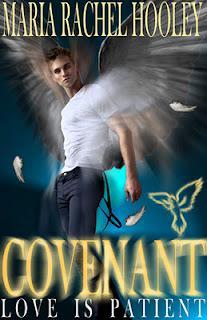 Book description (via Goodreads):
Lev Walker has fulfilled his purpose in Elizabeth Moon's life, but it has come at a considerable price. The bullet meant for Elizabeth has shattered Lev's mortality and the forced separation from Elizabeth has scarred his spirit, so much so that Evan Walker has purged Elizabeth's memory in order for Lev to start over. Yet love is eternal. What began with a saving Elizabeth's life continues in healing Lev's spirit as he is forced to remember what he has lost at the risk of everything.
Book 2 of the "Sojourner" series.
**************************************
My Review:
I was kindly given a copy of this book for review by the author, so thank you for that.


THIS REVIEW CONTAINS SPOILERS SO BE WARNED!
Well this is the 2nd book in the "Sojourner" series and this time it is in the perspective of Lev. It pretty much starts where the first ended, but just switches minds. But there is a twist to it, Evan has wiped his memory away, and when he comes upon a "about-to-happen" boating accident that Elizabeth is involved in he recognizes something in her but doesn't know what it is. And he starts finding other things he cannot remember. He also finds he cannot do a Sojourn as he should be able to because he feels basically gutted with sadness when seeing someone dying. When he finds out his memory was wiped clean he is pretty upset because they say it was for his own good but won't really say what it is that makes it for his own good. So when he takes up friends with people that before the memory loss were kind of enemies, Celia starts trying to talk some sense into him. But because she will not divulge any more information than Evan, he doesn't listen to what she says. Well one of the angels named, Theresa says she can restore his memory, and she does, but not all the way, and he doesn't know that until much later. Then when he visits Elizabeth as he often does he see's how bad she is dealing with his "death" and wants to make it better by having her memory wiped of any memory of him. Theresa says she can do but but she needs this dagger that is supposedly very powerful, and Evan has it. So he steals it, and takes it to her which is when he finds out everything was a trick, that they only plan to hurt Elizabeth because they all disliked him so much before he lost his memory, and come to find out they are rogue angels and the dagger can destroy them. They take the dagger from him and do some kind of magic on his mind that knocks him unconscious with pain. Celia finds and they go to try and retrieve the dagger but Lev finds Elizabeth in danger, Kane is manifesting himself to look like Lev in front of Elizabeth and calling out to her, she looses her balance and goes over the falls (again). Lev goes after her but she still hits her head on a rock pretty hard and he tries to use that to make her think she had been seeing things when she wakes up, since his current body, i guess you could say, is different than the one she knew him as having. Later on he finds Celia was attacked and is basically stuck in her body and it's almost like she is dead, so he takes her to Evan, meaning he has to reveal what he has done. And while Evan fixes Celia, and then gives Lev back the rest of his memories, they have to go deal with the rogue angels in the hope that they can retrieve the dagger without one of them getting hurt. Which is pretty much where it ends off, with them agreeing they have to go retrieve the dagger. I enjoyed this book as much as i did the first one. But in a different way, idk if that makes sense. I liked getting Lev's side of things, and seeing how deep his and Elizabeth's love really is and how they can't ever get over it or forget it no matter what obstacles are in their way. It also showed that before Elizabeth, Lev had a kind of darker personality to him, which was interesting to see. I did miss the romance between the two characters, but i really look forward to starting book 3 and seeing what else goes on with all the characters.
If you like books w/ angels and/or romance stories or forbidden love and drama, then this is really good series to check out. Happy reading!
**************************************  
Author Info:
Official Website
Twitter
Goodreads Page
Facebook
Amazon Studios
Add the book to your TBR list on Goodreads