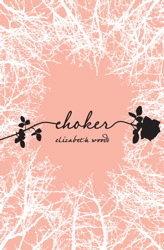 Choker
(stand alone)
by

Elizabeth Woods
(young adult, contemporary, mystery)
Published
: 01-0

4-11
Publisher
:

Simon & Schuster
Hardcover
:

233

pages 
Purchase
: $

8

.

8

9 on Amazon (at time of post)
4

stars




Synopsis
Sixteen-year-old Cara Lange has been a loner ever since she moved away from her best and only friend, Zoe, years ago. She eats lunch with the other girls from the track team, but they're not really her friends. Mostly she spends her time watching Ethan Gray from a distance, wishing he would finally notice her, and avoiding the popular girls who call her "Choker" after a humiliating incident in the cafeteria.
Then one day Cara comes home to find Zoe waiting for her. Zoe's on the run from problems at home, and Cara agrees to help her hide. With her best friend back, Cara's life changes overnight. Zoe gives her a new look and new confidence, and next thing she knows, she's getting invited to parties and flirting with Ethan. Best of all, she has her BFF there to confide in.
But just as quickly as Cara's life came together, it starts to unravel. A girl goes missing in her town, and everyone is a suspect—including Ethan. Worse still, Zoe starts behaving strangely, and Cara begins to wonder what exactly her friend does all day when she's at school. You're supposed to trust your best friend no matter what, but what if she turns into a total stranger?
Cover
I like this cover, but it's not one of my favorites. I love the trees and plant life involved, but it could have used more oomph in my opinion. However, there are designs on the pages inside which I seriously adore. There's nothing like some pretty artwork to look at WHILE you're reading instead of just on the outside. What lacks on the cover is made up between it. Good play Elizabeth!
Characters
I wasn't a huge fan of Cara in this book. She bends over too easily. She doesn't stick up for herself when people make fun of her, and she does everything Zoe says even if she doesn't want to. I mean, I understand they're best friends and all, but you have to have your own mind. Then again, there's a reason for it and it all makes sense in the end. Zoe was very damaged and drove me crazy. At times I felt bad for her but then she took the jealousy thing WAY out of proportion. I related more to Zoe because of her whatever attitude, but I kinda lost her when she hit stalker status. Ethan could have been a pretty great dude but to me there just wasn't enough of him. Just when you get to know him, the story takes a crazy turn.
Story
I love a good mystery. There's nothing paranormal about this tale, simply a few damaged teenagers trying to find themselves. While I did have a hunch about the ending, Elizabeth did an amazing job keeping me interested and wanting to find out what happens. There's a great mixture of suspense and potential romance. I really hope Elizabeth decides to continue on with this story because it could be a great series with the right mind set. Generally I enjoyed this book very much and would recommend it to pretty much anyone. It was awesome!
Quote(s)
None this time around, sorry guys!
And thennn...
Do you love a good mystery novel like me? I had a couple of different ideas for which direction this book was going so I was surprised in the end, which is awesome! If you'd love to get your hands on this book,

make sure you sign up for my "Best of 2012" giveaway going on right now! Details on the right sidebar. Good luck!
DISCLOSURE: All of the reviews posted are my opinions and mine alone. I am in no way paid for them. Every book reviewed was either purchased by me, received for free directly from the publisher/author specifically for review or received via: