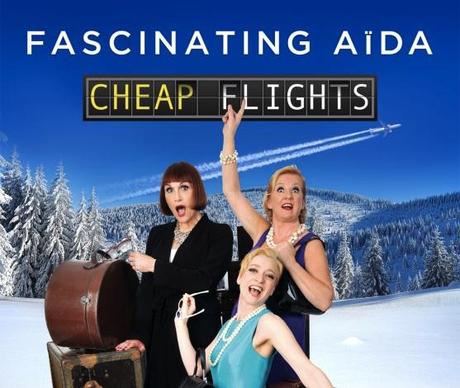 Fascinating Aida have been around for 30 years. Their niche is fans of both comedy and vocal groups.
Part of their appeal is the surprise of seeing three properly raised not-so-young English girls singing sweetly about topics like tax evasion and considering taking their elderly mother on a one-way trip to a certain clinic in Geneva.
Their viral success in recent years is thanks to their lampooning of soulless budget airline Ryanair. The two versions of this video are approaching 10 million views between them.

You can see why I just had to catch this show live!
The other highlight for me was their use of short traditional Bulgarian a Capella tunes to spit out hilarious one-liners about everything from Wayne Rooney's hair implants to Pippa Middleton's rear end.
And at the end, their encore is to sing answers to all the questions they most commonly get asked. Only Fascinating Aida could make even this hilarious, with leader Dillie using more than one answer to imply alcoholism.
The political content makes Cheap Flights far more meaty than the average comedy troupe, and their insightful comments on ordinary frustrations make them
far more interesting than an average vocal troupe.
The result is a polished show that doesn't feel over-rehearsed, and a wonderful tour of the point where music and comedy intersect.
You can tell they don't make any money from this - they do it for love. Highly entertaining, and definitely worth the low ticket price.