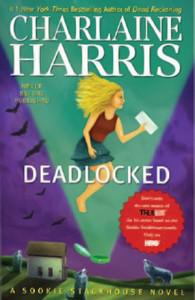 Sookie Stackhouse could be a bar maid in any small town in America. Besides her telepathic abilities, she's just like any other woman wanting to have a life she's happy with. At the start of Deadlocked, she is just like any other woman; Dermot and Claude are still living with her and she's enjoying their company. The Cluviel Dor is also safe and sound, Sookie is taking on more responsibilities at Merlotte's and Sandra Pelt is no more. What more could a girl ask for?
But in true Charlaine Harris fashion, nothing stays calm for long! When Felipe De Castro arrives in Shreveport to investigate representative Victor Madden's disappearence, Sookie finds herself involved once more given that she's Eric Northman's wife and all. But after catching him in a compromising position, she ends up getting more than she bargained for when a dead girl shows up on Eric's lawn!
While the police investigate the girl's murder, Sookie is forced to face her relationship with Eric and it's not all that great to look at considering he's still betrothed to the Queen of Oklahoma. On top of everything else, Claude has to return to Faery leaving Sookie and Dermot to deal with the rest of the Fae at Hooligans and Tara is about to have her twins any moment!
In the end Sookie must make a necessary choice that could separate her and Eric for good. This is the book where everything changes.
During my interview with Charlaine, I mentioned that the book showed Sookie starting to pull away from the world of the supernatural and waiting as normal a life as she can have. As much as she loves her vampires and fae family, Sookie also makes her human and shapeshifter friends more of a priority in this book rather than focusing on the business of vampires. Eric doesn't care for it much and for fans of Sookie and Eric it can be difficult to see them struggle with each other.
But as Harris reminds us, this is Sookie's story and going from romance to romance isn't everything Sookie is. This is the book where we really begin to appreciate how much our heroine has grown since she met Bill Compton in a bar. And, although it is not yet the end, readers will begin to sense that the end of Sookie's story is coming to a close.  Deadlocked is a book that is not to be missed. It provides so many twists and turns, you'll want to stay up all night just to see how they pay off. Chief among them all finally using the Cluviel Dor!
Whether you found the books long before True Blood or because of it, Deadlocked will take you on a ride you won't forget!
To win your copy of Deadlocked, click here! You can also order it here.
Image Credit: Penguin USA