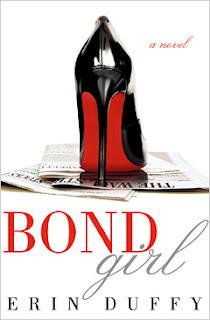 Bond Girl
by Erin Duffy
Genre: Chick Lit, Adult Fiction
Pages: 293 (paperback)
Source:
TLC Book tours
Author's Facebook
Buy it:
Amazon
|
Kindle
| B&N |
Book Depo
Description:
When other little girls were dreaming about becoming doctors or lawyers, Alex Garrett set her sights on conquering the high-powered world of Wall Street. And though she's prepared to fight her way into an elitist boys' club, or duck the occasional errant football, she quickly realizes she's in over her head when she's relegated to a kiddie-size folding chair with her new moniker—Girlie—inscribed in Wite-Out across the back.
No matter. She's determined to make it in bond sales at Cromwell Pierce, one of the Street's most esteemed brokerage firms. Keeping her eyes on the prize, the low Girlie on the totem pole will endure whatever comes her way.  Ignoring her friends' pleas to quit, Alex excels (while learning how to roll with the punches and laugh at herself) and soon advances from lowly analyst to slightly-less-lowly associate. Suddenly, she's addressed by her real name, and the impenetrable boys' club has transformed into forty older brothers and one possible boyfriend. Then the apocalypse hits, and Alex is forced to choose between sticking with Cromwell Pierce as it teeters on the brink of disaster or kicking off her Jimmy Choos and running for higher ground.
My Rating:

My Review: From page one
Bond Girl
takes us on the roller coaster ride that is Alex's life as she adjusts to being the new girl on the floor at the prestigious Cromwell Pierce, one of Wall Street's most esteemed brokerage firms.  We get unique insight into the "real" life of an analyst, including events and actions that you have to read (or be there) to believe.  Alex has dreamed of following in her father's footsteps and working on Wall Street.  With the image of the father/daughter work days that she remembers as a kid, she excitedly joins Cromwell Pierce where she hopes to start a lucrative career where she can work 9 to 5.  From day one Alex's life is thrown off-kilter as work is nothing that she expects.  She finds herself in situations she never imagined and making surprising life-long friends.
I really enjoyed this story for its unique story-line that kept me returning time and time again for more fun and craziness that I could never imagine on my own.  I found
Bond Girl
to be quite a page turner with some really wonderful side characters.  I didn't fall in love with all the side characters but they all had something to add to the story and made it that much better.  I absolutely loved Chick, Alex's boss, and most of Alex's work friends.  I felt as if I truly knew him (I have a soft spot for Chick).  Where things fell a little flat was Alex herself and the romance that any person over the age of 3 could see through.  The fact that Alex didn't have clue was very annoying and silly.  The book would have been so much better if it had just been left out.  While I found many of the side characters to be well-developed and interesting, I didn't feel the same about Alex.  I just didn't really connect with or like Alex.
This unpredictable tale falls quite short on the romance but surpasses all expectations for an engrossing story.
If you want a peek into an industry that everyone talks about but no one seems to really know anything about, this is the book for you.
P.S.  If you are person who was seriously affected by the downward turn of events in the financial sector (circa 2008) the excess described in this book might make you a little bit sick.
Have you heard of or read Bond Girl?  What did you think? Do you have an interest in getting a behind the scenes look at Wall Street or any other industry?