Read Time:
5 Minute, 8 Second
"This is not a safe space," the tagline of Halina Reijn's Bodies Bodies Bodies exaggerates. Those words, high on the film's neon-lit poster, sound like a foreshadowing of what to come. When a group of hyper-privileged pre-adults get themselves in a murder-in-the-dark game gone wrong, a safe space is definitely absent. It's also a forewarning message on just how the film will make use of internet jargons such as it is, to the extent of abusing them.
Among Us
When this group of old friends gets reunited for a hurricane party, you know they're up to no good. The venue is a fancy mansion owned by the family of David (tattoo-less Pete Davidson). A recovering junkie, Sophie (Amandla Stenberg, The Hate U Give), comes along with a new girlfriend – working-class Bee (Maria Balakova). Other attendances are David's girlfriend – a breakout actress, Emma (Chase Sui Wonders), the edgy Jordan (Myha'la Herrold), a dramatic podcaster – Alice (Rachel Sennott, from Shiva Baby), and her older boyfriend, Greg (Lee Pace).
The stormy night is supposed to be a wholesome reunion full of rowdy and debauched festivity like there's no tomorrow. If you think that might have a ring to it, then you might be right. After some wild exposure to alcohol, drugs, and nonsensical games, they come up to the game to end all games. It's like some sort of practical Werewolf (or Among Us if you're into internet memes) in which one of the guys will be the murderer and the others the hunted. "Bodies Bodies Bodies" is what they call it – referring to the catchphrase said when one of the players is found murdered.
With all the stereotypical Gen-Z traits and a discourse of social-media backbiting, Bodies Bodies Bodies pulls off its biggest stunt. IRL communication isn't what these internet natives can fluently do. Secrets and rumors circulate on the wire, feeding power to insecurity. Therefore, things escalate quickly once one of those internet news spills in real life. Before long, someone is dying. Not so long after that, body-counts start to rise. Now, does it ever drive you crazy just how fast the night changes?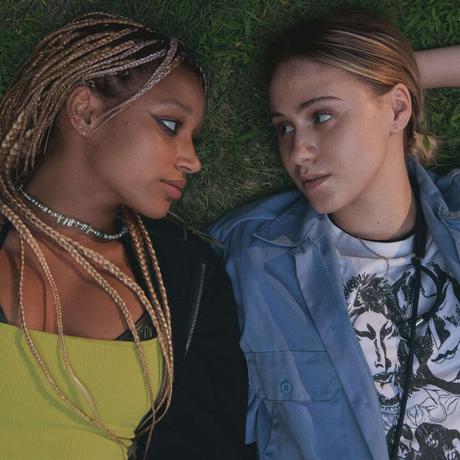 Sophie (Amandla Stenberg) and Bee (Maria Balakova) in Bodies Bodies Bodies (2022). Image: A24
There's where the teen-slasher tropes emerge. Reijn, only her second feature, cleverly wraps the fallout of this camaraderie with a slick one-location thriller. Sarah DeLappe's script provides her with shrewd social pingpongs that she crafts into a game of blame. With a raging hurricane outside and isolating power outage, the claustrophobic sensation might look cliched like it's another rendition of Agatha Christie's And Then There Were None; but, with some out-of-placed yet striking glow-in-the-dark ornaments. As derivative as it gets, Bodies Bodies Bodies ironically establishes itself as a distinctive thriller due to its modern views (and problems, too).
This is Emer-Gen Z
Now, this is where it gets more interesting. Before someone is officially dead, these guys are already dead to each other. They've known each other all too well; not because they're extremely close with each other, but because they're too distant. The rift that grows bigger as they go provides enough room for some sense of resentment. Talks behind each other's back become a common thing; and that's where the internet jargon gets too obvious for them.
This is where the whodunit gets nastier. Suddenly, everything is all about gaslighting and triggering. You're either not woke enough or guilty for having a Twitter account or a Libra moon. In the attempt to unravel the mystery, these friend groups begin unraveling the secret feuds between them instead. Out of the blue, everyone has the same motivation to be the real culprit behind this madness.
In traditional teen slashers stereotypes become an unofficial marker of who will perish and who won't, yet, Bodies Bodies Bodies has a different idea for it. Stereotypes are the murder weapon. And, exaggerating them looks like a conscious choice (to the extent of being judgmental to the whole Gen Z). This nasty, over-stereotypical thriller reminds me of Daniel Waters' Heathers – in which we're pushed to the limit of just letting all those characters die miserably.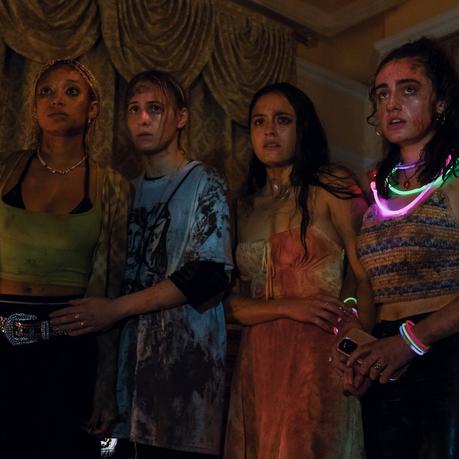 From left to right: Sophie (Stenberg), Bee (Balakova), Emma (Chase Sui Wonders), and Alice (Rachel Sennott). Image: A24
As outspoken and opinionated as they are, characters are the biggest investment this thriller has made. It's their aggression that makes this story taut and hilarious at the same time (save for the unprecedented finale). Davidson's David is the easiest to judge with his attitude (or the lack of it) and combative nature. But, everyone is actually combative. Herrold's Jordan wouldn't let anyone, especially Sophie – to whom she seems to have an unfinished business – see through her. Emma is all about vanity; Alice would admit that she's problematic, but she's not the easiest to get along with. Meanwhile, Sophie is an inch away from relapsing. Greg and Bee might be the greatest unknowns to the group; but, that doesn't make them less guilty of the stereotypes. 
Stereotypes help Reijn to let the actors embody the characters. Stenberg adds another stellar performance to her portfolio; while Davidson embraces the bad boy persona quite dearly. This is, albeit a minor one, a leap from his raw performance in King of Staten Island. The star of this show is Sennott with a giant follow-up to her breakout performance. Her character is the ultimate Gen Z face this film attempts to paint. After all, this ensemble of cast is what makes the thinly written characters feel bigger and more important.
This feels like a judgment to Gen Z (or the internet society in general) that might seem unfair but has the ring to make it relevant and plausible. Bodies Bodies Bodies might be the zeitgeist of this era that will flourish in more ways than just one in the future.
6.3
Bodies Bodies Bodies
| August 12, 2022 (United States)
Director:
Halina Reijn
Writer: Sarah DeLappe, Kristen Roupenian
Stars: Amandla Stenberg, Maria Bakalova, Rachel Sennott
Summary: When a group of rich 20-somethings plan a hurricane party at a remote family mansion, a party game turns deadly in this fresh and funny look at backstabbing, fake friends, and one party gone... Read all
Countries: United States
Languages: English
Source: imdb.com
Disclaimer: This plugin has been coded to automatically quote data from imdb.com. Not available for any other purpose. All showing data have a link to imdb.com. The user is responsible for any other use or change codes.