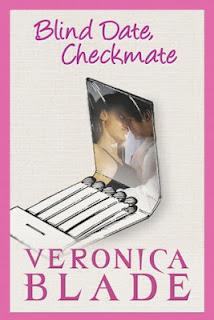 Book Description (via Goodreads):
BLIND DATE, CHECKMATE
Should a woman who's unable to forget her first love give "happily ever after" one more try?
Shelby Winters' one great love went sour. If she can't feel that way about a guy again, why bother? When Shelby's best friend sets her up on a blind date with Logan, the guy who broke her heart, he pursues her relentlessly, forcing her to make a choice: give her heart what it's always desired and risk total devastation or shut Logan out and lose her only shot at happiness. To Shelby, it's a lose-lose situation. Or is it?
-------------------------------------------------------------------
My Review:
Congrats Veronica, you have done it again! Again you have written a story that i could not put down. And this isn't even my usual genre of reading! But i absolutely loved it. You have proven you can not only write for the YA (i'm still in love with "Something Witchy This Way Comes" by the way") but that you can write just as great for the older crowd. I read this book in 2 days. I loved the story, i think it's something every girl/woman can relate to in a sense of first loves and having our hearts broken and how after that we kinda wanna protect ourselves from the world. In reality had a girl's first love come back to town - more than likely she would be the one chasing him, so i loved that it was the other way around in this story, just goes to show that there are guys out there that aren't complete and total a** holes. I loved the bantering back and forth between Shelby and Logan, i found it fun and entertaining. I mean i think every girl wishes they had a Logan in their lives. And i loved that Shelby was a strong and independent woman who could, if she had to, stand on her own two feet. Alot of books portray the female as weak and so i was glad to read something that did not do that. This was a very refreshing, fun, entertaining read, and i would suggest it to anyone who likes a good romance. Happy Reading! 
Author Info:
Official Website
Twitter
Goodreads Page
Facebook
Add the book to your TBR list on 

Goodreads