If you haven't already, check out the giveaway I posted for not one but two galleys of this new novel.  Two copies means two winners so make sure to enter!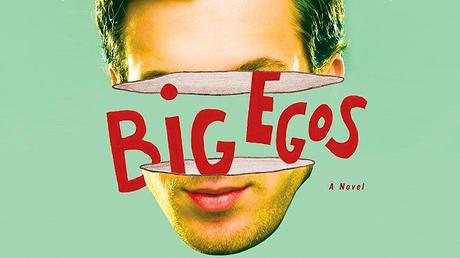 This is a book I got at the San Diego Comic Con and I can't wait to pass it on, it really is a creative and fun story.  Here is the synopsis from its Goodreads page:
Call him whatever. Call him whomever. He can be any legally authorized fictional character or dead celebrity he wants for six to eight hours, simply by injecting a DNA-laced cocktail into his brain stem. It's called Big Egos and it's the ultimate role-playing fantasy from Engineering Genetics Organization and Systems (aka EGOS.) And, as one of the quality controllers for EGOS, he's the ultimate ego-tripper, taking on more artificial identities than advisable—and having a hell of a time doing it. Problem is, he's starting to lose the ability to separate fact from fiction. His every fantasy is the new reality. And the more roles he plays, the less of him remains. Sure, it's dangerous. Yes, he's probably losing his mind. Okay, hundreds of others could be at risk. But sometimes who you are isn't good enough. And the truth is, reality is so overrated. . . .
This book has everything you could ask for in an adventure: conspiracy, multi-millions, mysterious deaths, cover-ups, the black market, and no one is who they say they are.  So who do they say they are?  Celebrities, fictional characters, almost anyone you can think of.  Does it still count as undercover if everyone is in on the disguise?
The idea for this book is really interesting and creative, who wouldn't want to be their favorite celebrity or fictional character for a night?   Anyone remember those creepy plastic surgery shows where people would go under the knife to look like his or her idol celebrity?  Big Egos doesn't require surgery but it doesn't require injecting foreign DNA into your neck.  Creepy, huh?  But now the fun starts.
What I didn't like about the book is that I felt there was almost too much name dropping.  The narratives of the Ego parties he'd go to, all the different combinations of dozens of celebrities doing crazy things, it all got a little much for me.  I'm fine with a scene or two, but I found myself glossing over those passages towards the end.
I would recommend this book to anyone looking for a fun and fast-paced read.  This book definitely never gets boring!
You May Also Enjoy:
Giveaway! 2 Copies of "Big Egos" by S.G. Browne
Giveaway and Review: "The Other Normals" Ned Vizzini
Review: Unholy Night by Seth Grahame-Smith
Review and Comic Con Spotlight: "Damned" by Chuck Palahniuk
Review and Giveaway! Signed ARC of "Keeper of the Lost Cities" by Shannon Messenger!
Review and Giveaway! "Resurrection Express" by Stephen Romano
Comic Con Recap: Preview Night Wednesday
Sunday's Comic Con Schedule: Book & Author Spotlight