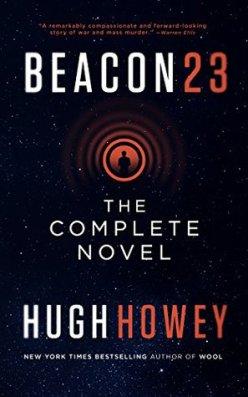 Beacon 23: The Complete Novel by Hugh HoweyAuthor Website
Amazon (UK)
Amazon.com
Broad Reach Publishing (ebook), 2015162 Pages
For centuries, men and women have manned lighthouses to ensure the safe passage of ships. It is a lonely job and a thankless one for the most part. Until something goes wrong. Until a ship is in distress.
In the 23rd century, this job has moved into outer space. A network of beacons allows ships to travel across the Milky Way at many times the speed of light. These beacons are built to be robust. They never break down. They never fail.
At least, they aren't supposed to.
They don't prepare you for the little noises.
Beacon 23 is an intense, sometimes disturbing read. Hugh Howey has become one of my favourite sci-fi writers. Digger is a brilliant character even though it's a bit hard-going to be inside his head all the time. Digger has been through the ringer, literally and is a very sympathetic character. There are some dark, intense moments in this book and these make it all the more enjoyable. Claire and Cricket bring some light into the darkness which was a nice touch. This book offers quite a bleak picture of the future but is utterly absorbing nevertheless. I had a great time with this book.