My hair has a real hard time staying curled. I don't curl my hair very often for this reason. I love the look of curly hair and have toyed with the idea of getting a perm but in the end decided it's not for me... I was sent a Babyliss curling iron and White Sands Infinity Finishing Hairspray to try and I was really excited with the results...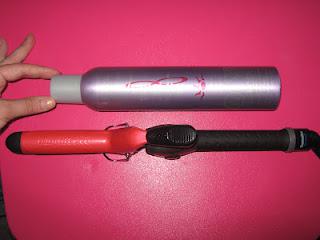 Curling iron and Spray... I couldn't get a picture of the spray without
glare no matter how hard I tried!
I first used some Thermal Shine heat protectant in my hair, then I curled my hair on the '20' heat setting. To change your heat setting, you push the dial to pop it out and turn it, then pop it back in when you have the setting selected that you want. I thought that was a neat little feature so you don't switch settings while doing your hair.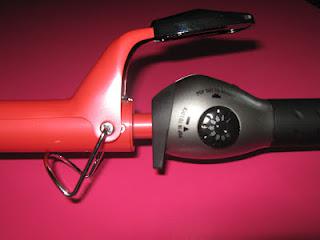 After I finished curling my hair with the Babyliss Curling Iron I used the White Sands Infinity Finishing Spray. My curls stayed bouncy and had great volume for hours after I was done, I was so impressed! The Finishing Spray has such a great smell to it, not like a typical hair spray, it smells kind of fruity.
The Babyliss Pro Tourmaline Curling Iron goes up to 420 degrees and has 20 different heat settings. It's actually rated as the second best curling iron by Flat Iron Experts! This curling iron has Tourmaline which is actually beneficial for your hair, preserving moisture and causes less damage to the hair cuticles.
I received the 1" curling iron but the Babyliss Tourmaline curling irons come in 5 other sizes. The Babyliss also features a long swivel cord which is a definite plus when it comes to curling your hair!
*I was sent product in return for an honest review, all opinions are 100% my own*