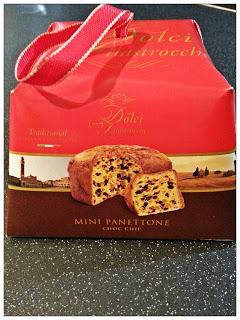 I can't remember the last time that I tried a panettone but they seem to be everywhere at the moment for Christmas so I thought that I would get in on the action.  I am not really keen on raisins or candied fruit in cake so when I saw this Mini Choc Chip Panettone in Aldi, I knew I had to give it a try.  There was also a classic version and both were priced at £1.49 and weigh 100g.
It is described as "panettone without sultanas and candied citrus peels with chocolate chips.  I thought that this was an interesting description.  What is wrong with just "panettone with chocolate chips"?  I guess they wanted to be clear that it wasn't just a standard panettone with chocolate chips added.


The panettone was really nicely presented, it was wrapped in a gold paper casing and placed within a nice red box with a ribbon through the top.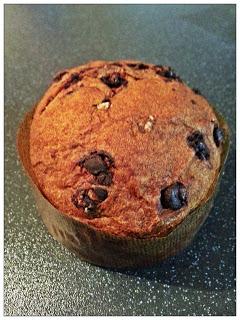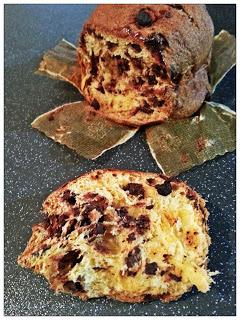 Removing the paper casing was a bit of a nightmare, it was really stuck onto the panettone, so I tore it down the sides as you can see in the picture.  I tried to peel it away at the base but it started to leave half of the panettone on the paper and I didn't want to spoil it.  The top looked a little over-cooked to me as the chocolate chips on the top were a bit burnt.
As I said it has been a while since I last tried panettone but I did not remember it being so difficult to cut.  I tried to slice it with a bread knife but it was really tricky as it was so sticky and doughy.
The panettone did taste a little over cooked on the outside but the inside was better and I enjoyed the doughy texture although I remembered panettone as being more fluffy.  This was similar to brioche I suppose but I must say I much prefer brioche as it is much sweeter and sweetness is something I feel this panettone lacked despite the good amount of chocolate chips.  Despite it not containing any fruit it still had a slight fruity taste for me which I wasn't keen on.
Verdict
This is panettone from Aldi was a good price and I thought that the packaging was lovely.  Sadly the taste was not for me.