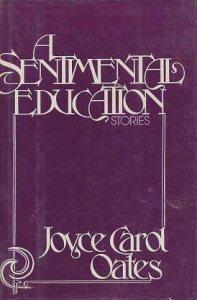 A Sentimental Education: Stories by Joyce Carol OatesAuthor Website
Amazon (UK)
Amazon.com
Dutton Books (hardback), 1980192 Pages
What It's About
Six short stories about love: a love cruel, violent and often destructive, which does not admit hesitation and compromise: that love is a shattering experience, an explosion, an attack that shakes the spirit and the body. In the stories of Oates life is a battle fierce, no holds barred, for success but also for the need to be recognized, accepted, remembered and loved.
Opening Paragraph
This is how Claire Falk's marriage of twenty-six years, which accounted for more than half her life, ended one humid Saturday afternoon in June: she blundered into overhearing a conversation (QUEEN OF THE NIGHT)
What I Thought
A Sentimental Education is a collection of strong stories. The stories aren't brilliant but they were all really enjoyable.
I've never read any of the stories in this collection. This made a pleasant change. JCO has written so many stories that they tend to crop up in multiple collections. If the story is amazing like, Where Are You Going, Where Have You Been? this is a good thing but not so good for weaker stories. I liked reading some brand new stuff.
I enjoyed every story in A Sentimental Education. The stories all deal with similar themes - essentially love, cruel, obsessive, destructive and brutal love. My kind of love. I don't like love that is twee, all holding hands while skipping through the daisies singing tra-la-la. I like love that hurts so much it feels like you've been snapped in half. This collection offers this type of love in spades.
The title story is the longest and the best in the collection. The Precipice is the second best story. I found it really dark at times and incredibly sad. Queen of the Night is a great story, beautiful, chilling and disturbing at times. The Tryst really unsettled me. The other stories were all really good but didn't have quite the same impact.
A Sentimental Education is an excellent collection of JCO's earlier stories.
Stories included:
Queen of the Night
The Precipice
The Tryst
A Middle-Class Education
In The Autumn of the Year
A Sentimental Education