Contributor: Bronzethumb
Written by Stephen Cochrane
Directed by Steve Dimarco
After a shaky start to the season, "SubterrFaenean" feels like a much better premiere and makes a better promise to the audience that good things are coming. It feels a lot more like the better episodes of seasons one and two, balancing the fun characters, an interesting A-plot and a deepening of both the Fae mythology and the ongoing plotlines. For the first time since mid-season two, "Lost Girl" seems like it's back on track.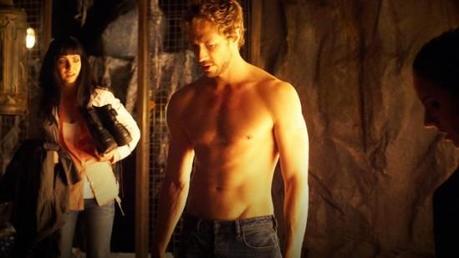 A friend from Kenzi's past is one of many humans that have been snatched by an unknown group of Fae, leading Bo and Kenzi deep into the sewers to find those responsible and rescue the missing humans. Dyson tries to help, but his attempts at investigating are stymied by politics and policies within the police department, and by Tamsin, his new Dark Fae partner. Tamsin is determined to nail Bo for attacking citizens of the Dark, and soon it becomes apparent that despite her own ignorance, Bo isn't as innocent as she thinks.
The A-plot has some genuine complexity to it, and a decent smattering of twists and turns to keep viewers engaged right to the end. The choice of villain is sure to raise some eyebrows, and to spoil it would be a crime worth imprisonment in Hecuba, but it's a fun way to tell this particular story and tie in a few different fairy-tale and urban legend characters. Between this villain and the introduction of the Weaver, there's a lot of cool new Fae elements going on — it recalls the first season, when there was still so much to learn about Fae society, in the best way.
Mythology development is always nice in a "Lost Girl" episode, but "SubterrFaenean" is all the better for the way it folds this into the A-plot, along with a number of other things. The writer's chief objective seems to have been introducing the character of Tamsin, whose dynamic entry into the series has the potential to shake things up considerably. She's immediately positioned as a strong counterpoint for Bo, and better yet, she never comes across as actively evil. Her most antagonistic actions feel very justified and there's every indication she'll be around for a while.
Between Tasmin's introduction and the fact that Vex has been upgraded to some kind of recurring regular, the Dark Fae are getting a good representation so far in season three. It's nice to see "Lost Girl" properly shaking up the dynamic, and hopefully it'll take a leaf from the "Buffy" book of ensembles and keep things shook up. Bo and Lauren's relationship upgrade is equal parts sweet and heavy on the fanservice, and Kenzi takes a few moments to remind us that despite the oodles of spunky awesomeness, there's still a lot of mystery to the character.
All of this comes on top of the emerging character arc for Bo, which is teased and hinted at some more in "SubterrFaenean". It's a mystery worth getting curious about because it's heavily rooted in the characters; much like the finale of season one, things are intimately tied to the ensemble, and we care about the ensemble so we care about the story. It's to see "Lost Girl" on its feet again, kicking butt and taking names and reminding us why we got so hooked on the show in the first place.
Score: 8/10