Contributor: Henry T.
Written by Neal Purvis, Robert Wade, and John Logan
Directed by Sam Mendes
Going back to the bare bones type of Bond with 2006′s "Casino Royale" was fitting for showing James Bond in the post-9/11 world. For two films, the Bond of a new generation with Daniel Craig basically ignored the very staples that made Bond the iconic superspy that he has become in time. "Skyfall" brings back those staples that were missing as a celebration and embrace of the fifty-year history of the Bond movie franchise.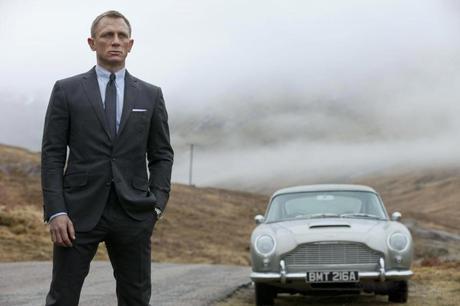 This film has crafted an intensely personal story, one that shows Bond as the representation vital to the United Kingdom and necessary to move off into the unknown future. A majority of the 23 films produced in the Bond franchise dealt with villains who wanted world domination. So it was a really smart move to turn that motivation on its side. This keeps Bond integrated into the story instead of being his usual quippy, detached self. It forces Bond to care about the circumstances that are occurring around him. "Skyfall" lives up to the hype as the best Bond film to come to the silver screen in years.
The straightforward and simple plot of this film is befitting of the meat-and-potatoes approach that was launched in the 2006 reboot. We follow Bond and Agent Eve (Naomie Harris) as they try to retrieve a stolen NOC list in Istanbul. A bullet meant for someone else strikes Bond, and he is presumed dead by M (Judi Dench) and MI6. Meanwhile, someone mysteriously bombs MI6, making it look like an assassination attempt on M. Bond returns from the dead — though not before being thoroughly tested for field duty by MI6 — to find out who carried out the attempt. That leads him to a man named Silva (Javier Bardem), a former MI6 agent who has vowed to kill M by any means due to her past actions in leaving Silva behind to die on a previous mission. It becomes a race against time with Bond protecting M against Silva and in the process, he shows why the world needs human spies in an ever-changing world of shadowy, anonymous threats.
There is so much to like about this film. While it's a long film at 142 minutes, it's never boring. The previous Bond films haven't been this fun or stylish in a long time. The plot has a grim subject matter, but it's a relevant one, and previous Bond films have never been much of a beacon on social commentary. The film embraces the current state of espionage in this world: Everyone involved in MI6 is getting older, getting behind the times and increasingly obsolete. Bond and M are byproducts of an old world, a world where you could easily identify the threats that were coming at you. They can easily be replaced by younger, newer models, like the new Q (Ben Whishaw) or Agent Eve or even bureaucrats like Mallory (Ralph Fiennes). Those are people who can easily adapt to a changing world.
The fluid sort of threats are represented by Silva, who is a smart, cunning, slightly over-the-top villain with one purpose in mind: Kill M as punishment for the injustices she inflicted on him in the past. Silva is a mirror of Bond, currently M's favorite pet spy, and there's a sense of palpable fear whenever he's onscreen. He doesn't appear until an hour into the film, but his introduction is especially memorable. It's presented in one long, unedited take where he walks towards the camera while delivering a fascinating story monolog to Bond and stops when he's literally towering over Bond and takes up the entire screen.
Silva is ruthless, and Bardem as well as the film's writers make him intentionally so. He can sit in a glass prison cell and still be like an animal ready to stalk and kill its prey. Making his mission a personal one (instead of the more broad world domination line that befalls so many Bond villains) increases the stakes, and makes him all the more dangerous. The final showdown does exist, but the nice twist is that Bond isn't directly involved. M is, and Judi Dench delivers the finest work in a Bond film since she was introduced in the franchise 17 years ago. The finale has more emotional punch than I've ever seen in a Bond film.
Director Sam Mendes amazingly re-invigorates the Bond franchise (not that it was stale to begin with, although this film demonstrates that Quantum of Solace was an experimental failure in the genre) by putting on some of his signature touches. He and cinematographer Roger Deakins put out some amazing images and wide-angle location shots. Istanbul, Macau, Shanghai, Scotland, and especially London are used to incredible effect. All of the action sequences are well-staged and done with a great sense of style. There is one fight that is all lit in shadows with the neon night lights of Shanghai in the background. There's Bond's arrival into Macau, which feels like it's out of another movie altogether. A simple chase through London's Tube system is clear and ends with an enormous bang, as does the end sequence in Scotland. I don't think a Bond film has used the city of London this well before.
Mendes understands spacing and building a film through imagery, all integrated with sly nods to the past history of Bond. The return of a particularly memorable Bond icon elicited cheers from me. The film's story also acknowledges its characters as human beings with faults and a tortured, but inter-connected history. We understand (but not fully) why M likes and respects Bond. We understand why Silva would be so bitter towards a woman and country that betrayed him and left him for dead. We understand that Bond is getting older, slowing down, possibly becoming weaker. But we see him build himself back up and gather strength, He re-discovers his purpose and why he has to do his job, no matter how brutal it might be. It's a Bond film with morals and thematic content, something that hasn't been done much before, and that adds to its surprise element.
It's not easy to fulfill the high expectations of a franchise with the long and distinguished history of James Bond. I was asked after seeing the film whether it was a good film. Whether it would still be a good film on its own, without the iconic Bond elements that have garnered the franchise its legion of fans. I'd have to say affirmative to both accounts. This is a great Bond film, but more importantly, it's a great film in general. It's high-quality entertainment, and makes me hopeful that James Bond will still have a good future despite all of its changes. Fifty years after being introduced to the world, "Skyfall" ensures that Bond remains vital and, more importantly, relevant.
Score: 9/10