Contributor: J. M.
Written by Brian Millikin
Directed by Jason Priestley
Honestly, I really dread most holiday episodes, particularly Halloween episodes. They usually end up with a shoe-horned horror plot that takes away from a status quo and doesn't add anything above and beyond the usual, and instead saddling us with something vaguely unwatchable. That doesn't really apply to "Haven", given its roots in Stephen King's writing and the preexisting supernatural twist. After setting up the new status quo in the previous episodes, this episode does very well to set it all in motion, testing out the interactions between the main characters within a confined environment while highlighting an interesting moral dilemma.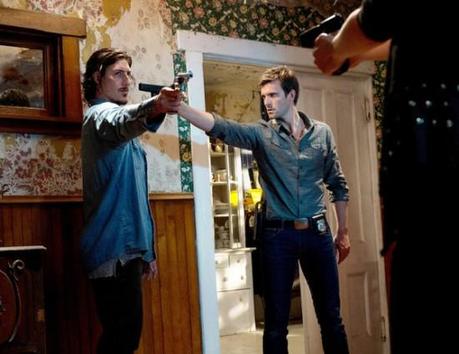 The premise of the episode is simple enough, and cribbed from countless horror movies, both of higher and lesser quality: a group of people get stuck in a haunted house and have to escape. "Haven"'s execution of it is of course tied to a trouble, and a very interesting one at that. The idea of pouring yourself into a place is not all that uncommon, but the twist of literally pouring yourself into a house is quite novel. It also allows the writers to explore the new status quo in a pressured environment.
Nate's attraction to Jordan has clearly bent his judgment, and whether or not he is playing the long con or not he is in danger of losing his link outside of the Guard. In this episode he seems far less willing to compromise than Duke, even though Duke is far more belligerent. Duke admittedly has good reason, even though the house was manipulating events. The fact that Audrey was able to get them to stand down was a testament to her ability to maintain the troubled dynamic between the two sides of the battle, represented by Duke and Nate. However, as the end of last season indicated and how this season has been building to, it doesn't look like she's going to be able to maintain that truce much longer.
As for Claire and Audrey, Claire seems genuinely concerned when it becomes clear that trying to remember the past is dangerous. While I don't think that there is any doubt that she's come into Haven with some sort of alternate agenda, it might not be as hostile as it could have been originally.
Ultimately, the episode was a pretty good take on the traditional Halloween episode special while putting a special "Haven" twist on the concept and not taking character development and exploration for granted.
Score: 7/10