Contributor: Edmund B.
Written by Alexander Cary
Directed by Lodge Kerrigan
After an episode as intense as "Back to Beirut," a return to home waters usually signals a step back from the brink, a moment to relax and reflect on what came before. But "Homeland" is far from the usual, as the ironically-titled "State of Independence" ratchets up the pressure on all and sundry. The arena may shift from the geo-political to the personal, but everyone's getting a lesson on the trials and tribulations of depending on others.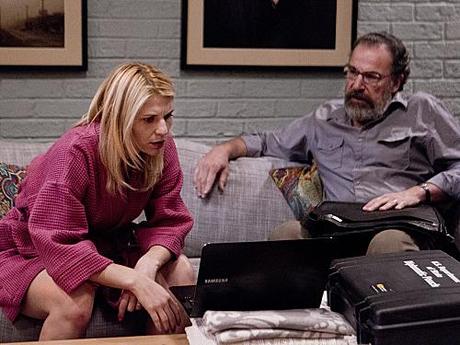 Brody is having an increasingly difficult time juggling the demands of work, home and Abu Nasir. The order to retrieve his suicide vest tailor seems justified. It's possible Brody was one of his only contacts, making Brody the logical choice to approach him. However, it also seems a big risk with a valuable asset. I get the sense Abu Nasir is still testing Brody's loyalty, and escalating the demands to see how far Brody can be pushed.
The tactic seems to be working. As the road trip motors on, we see Brody slip into the tunnel vision of a Marine on a mission. As the situation becomes increasingly untenable, he still believes he can handle it, taking every call from Jess right up until the situation snaps. Brody has worked himself well out onto the shaky parts of a limb. He's annoyed his political benefactors, alienated his wife and daughter, and given Mike more cause for suspicion. While dispensing with the tailor probably was the ultimate plan, having it come at Brody's hands gives Abu Nasir even more leverage over him.
Carrie finds herself out in the cold, as well. Her decision to leave the close embrace of her family and return home could, in some circumstances, be a good sign. Here, the extremity of emotion written across her face clearly reveals it is not, as does her nervy pacing pre-briefing. Estes' firm and very cold shoulder drives her into an more extreme cycle than the one during her mission. It was a harrowing, but devastatingly accurate, glimpse into her depths of denial and despair. Punctuating the suicide attempt with Saul's return, and the evidence that she was right, was a necessary tonic both for her and the audience. While more complications are sure to ensue, that doubt has been erased and she has that certainty to build on.
I cannot praise Claire Danes' work so far highly enough. Someone very close to me has struggled with similar issues, and actions, over the years. Already, there have been numerous times this season I've seen chillingly familiar expressions and attitudes in Carrie. Thankfully, my friend is still with us, now safely ensconced and supported by family and friends. All of which makes Carrie's desire to reenter her dysfunctional work family so troubling for me. It's a recipe for great drama to come, and in keeping with her condition, but one I may have to watch with some bittersweet detachment. Having helped forge one road to recovery, it's going to be difficult watching Carrie stumble off hers.
I decided to break the critical fourth wall after reflecting on Jessica's journey this episode. As Brody's troubles escalated, it became obvious she would be thrust into the spotlight, no doubt to great acclaim. Turning that cliche into an example of the power of searingly open honesty was a master stroke. Aside from the showcase it gave Morena Baccarin, what Jess advocated is very sound policy. Anyone in extremis needs to know they are not alone and get some idea of what to expect. Of course, the reality here is none of them are likely to get such aid. They are becoming more and more isolated on their independent islands, with greater discord looming. Therapy and support is good for the soul and psyche; it would be deadly for one of the best dramas on TV.
Acting: 2/2
Writing: 2/2
Directing: 2/2
Style: 3/4
Total Score: 9/10