Contributor: John Keegan
Written by Julia Ruchman
Directed by Tawnia McKiernan
"Covert Affairs" definitely has its mojo back. Considering that I once hated the character of Eyal, they've managed to give me a reason to think that he actually thinks highly of Annie. At the same time, they've also developed a context for his actions over the past couple years that could, in many ways, give his previous appearances and attitudes a more robust context.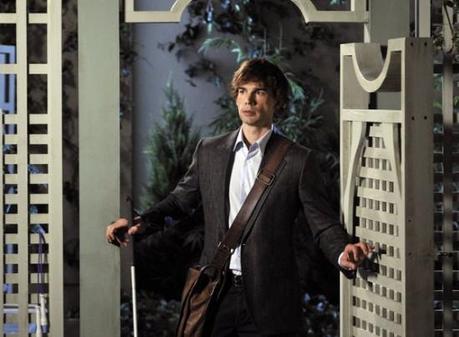 It's clear that Mossad has something in mind for Annie, and they've chosen this psychologically vulnerable time to take it to the next level. My first instinct is that Eyal was initially tasked to evaluate Annie as a possible double agent, or if nothing else, a mole that could provide intel to Mossad. Openly pushing the notion that Mossad, with the exception of Eyal, considers Annie a reckless and dangerous agent is a nice way to cover their intentions.
I've learned not to overcomplicate my theories when it comes to this show, so I won't take the spycraft any further than what is more or less there on the screen. But Mossad picked a great time for the next phase of the operation. Annie is being rewarded, but her judgment is still under scrutiny and there's a certain amount of mistrust. If anyone at the Agency discovers that she's living in Eyal's place in DC, they will certainly suspect she's compromised.
What's nice about this is that Eyal is not being portrayed as strictly villainous in this situation. He may be following orders, but as the end of the episode makes very clear, he's not particularly happy about it. He's just as invested in the relationship, be it friendship or otherwise, and that makes him a lot more sympathetic than the cocky, arrogant jerk that was introduced back in the first season.
My only caveat is that it seems clear that this is potentially another go-round in the Annie/Auggie cycle. At the end of the second season, Annie was on the verge of telling Auggie how she felt, and he was with Parker. Since then, the situation has flipped, with Annie falling for Simon and now potentially getting distracted with Eyal.
That said, I don't think the writers would be so tone-deaf as to expect Annie, still recovering and clearly not over her loss, to fall for Eyal. It might be true that she spent a lot of time in that Russian prison, but that would undermine the character in a completely different way than ever before. It would be refreshing to see them take a different direction.
Meanwhile, there's this odd undercurrent of discord between Joan and Arthur, based around his semi-discovery of her secret AA meetings. I would usually roll my eyes at this, but it's a concept I found fascinating when it was explored on "The West Wing", and it's even more interesting when applied to the intelligence community. How exactly does one keep this sort of thing secret when working in a building full of people trained to expose secrets? It has potential to be something intriguing, depending on where they take it.
Like the beginning of the third season, the writers have set up some scenarios and plot threads that have a lot of potential. There are also some pitfalls they will need to avoid. So far, they are not falling into the backsliding habit like they did at the end of the second season, so there is reason to be hopeful!
Writing: 2/2
Acting: 2/2
Direction: 2/2
Style: 2/4
Final Score: 8/10