Contributor: John Keegan
Written by Terri Hughes Burton and Ron Milbauer
Directed by Allan Kroeker
The episode starts off with a bang, as Rosen and Cam's commitment to take the war to Parish is realized. The relationship with the government may not be ideal at the moment, but it's getting the job done. Rosen's more aggressive attitude is plain as day, given that his careful handling protocols with Alphas has been tossed out the window.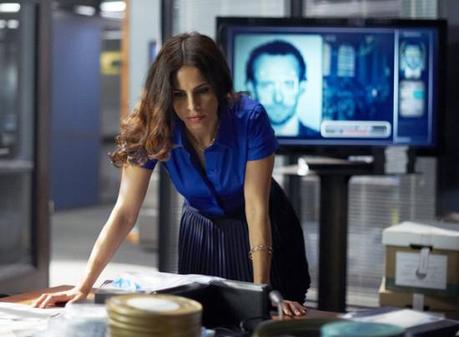 It also serves as the basis for Cam and Kat to go on a mission to a farmhouse, where they find Mitchell, played by a frumpy Sean Astin. At this point, the writers have shifted completely into the "realistic comic book world" mode, because Mitchell's ability is about as tenuously linked to the real world as it gets. But it makes sense that Parish would use someone like Mitchell, and it provides an obvious point of interest for Kat.
The conventional plot of Cam getting taken hostage by "The Caretaker", who can rapidly repair broken bones, was slightly disappointing. If it was supposed to build on Kat's previous field experience, it wasn't quite as strong. As others have noted, her plan for defeating "The Caretaker" could have easily been defeated, if the target hadn't been willing to stand completely still as the semi was barreling right towards him. Wouldn't "The Caretaker" know his own weaknesses at this point?
What I found most meaningful for this plot thread, however, was the crushing revelation for Kat that her apparent memory of her mother was nothing more than the stray impression of a commercial she once saw. It definitely shook her to the core, and it will be interesting to see how she reacts in the future. For that matter, it was nicely matched by Nina's discovery that Senator Burton knows she was "pushed", and assumes it was one of Parish's people. The limitations of Nina's ability, especially in terms of repeated applications on the same person, will definitely come back to bite Team Rosen in the future.
To some extent, it could be self-inflicted wounds. Bill, Nina, Kat, and Gary all could use some of Rosen's usual psychological assistance at this point. Nina and Kat are dealing with ability-related issues, but Bill and Gary's personal issues are just as potentially distracting and damaging. Gary, in particular, is faced with the kind of personal tragedy that most well-adjusted individuals would find life-altering. Gary's particular view of the world makes it that much harder for him to grasp, and without support, it could hobble him completely should his mother die.
It all comes back to Rosen's current focus, and whether or not he can deal with his own emotional and psychological scars in time to keep his team from crumbling again. With two episodes left in the season, it's very likely that those questions are going to be front and center as the latest campaign against Red Flag and Parish comes to a head.
Writing: 2/2
Acting: 2/2
Direction: 2/2
Style: 2/4
Final Score: 8/10