Contributor: Bronzethumb
Written by Robert Doherty
Directed by John Coles
The pilot episode of "Elementary" was not a particularly stellar effort, which meant the follow-up only had a low bar to clear in order to be an improvement. And it did clear it, barely. Maybe it's because the shock or the outrage had time to wear off, but there was more to enjoy in this second outing, though it's still got a long way to go before it's actually good.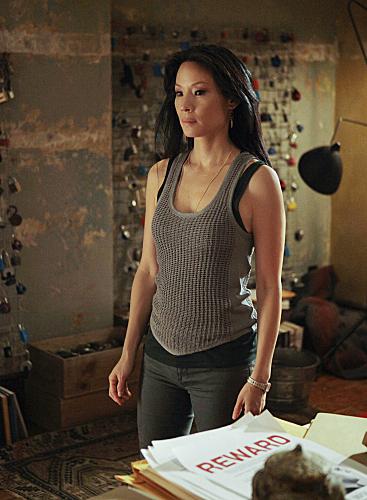 Holmes and Watson help investigate a robbery-homicide and soon discover the two crimes are unconnected; it's a fiendish murderer they want, not a thief. Things hit a snag when the prime suspect is discovered to be a coma victim, but while the police have all but given up, Holmes discovers a web of family connections and a sound motive for the crime. Like the premiere, this is standard procedural fare, no more or less interesting than anything on another network. Fans of self-contained whodunnits will be pleased enough, and those who want more will be left hanging.
Johnny Lee Miller continues to be the most engaging aspect of the show. He finds aspects of the original literary character in the little details, but he's also started to make the protagonist of "Elementary" something new entirely. Thanks to the writing, he never really comes across as Sherlock Holmes, but by around the halfway mark, it doesn't matter much: this battery of quirks and idiosyncrasies bound in an amusedly abrasive personality is entertaining in its own right. It's fun watching him sit through an AA meeting, and seeing him rub everyone the wrong way, from the police department to Watson's friends, makes for good entertainment — the "leathery from slaps, baby's bottom" quip is genuinely hilarious.
This doesn't stop Robert Doherty from trying to write in Holmesian references and details, but rarely are they played straight. One almost gets the impression he'd like to skewer and subvert as much of the literary canon as possible; the best example is his introduction of Holmes' violin in this episode, a famous part of the original characterisation. The problem is that if he wants to do an interesting spin on Holmes, he's picked the exact wrong format for it. With forty minutes of screen time and the need for a standard cut-and-dried mystery, there's so little time to develop characters and mythology that it all winds up a wash.
The closest thing Watson gets to some character development is an ex-boyfriend, and the closest Gregson gets is the discovery that he's not as well-informed about Sherlock Holmes as he thinks he is. Truth be told, there's not a whole lot of content separating this episode from the pilot, but it's marginally more enjoyable. It's not trying to convince us, in vain, that "Elementary" is about Sherlock Holmes. From that earnestness come a few more glimmers of quality, a chance for Johnny Lee Miller to bring a fun protagonist to life and add what little silver lining he can to the whole affair.
Score: 6/10