Contributor: Bronzethumb
Written by Robert Doherty
Directed by Michael Cuesta
For the second time in recent years, here's another attempt at a Sherlock Holmes television series set in the modern day — only this one is coming from the US network notorious for its procedurals. And this really shows, because "Elementary" feels more like a CSI spinoff than an adaptation of a beloved literary canon. There's a solid presentation and a sense that if the creator had the guts to simply pitch the premise as its own story, it might actually work, but the little glimmers of quality are pretty quickly snuffed out.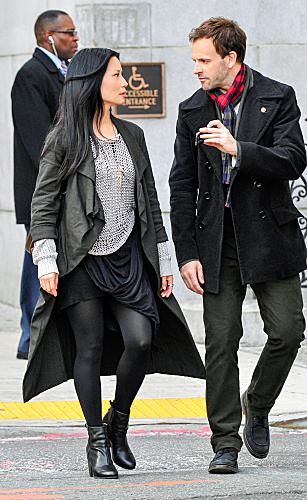 Joan Watson, a former surgeon, is assigned as a sober companion to Sherlock Holmes, who's fresh out of rehab in New York and keen to start working as a police consultant. Pretty quickly, Watson is dragged into a murder investigation being run by Detective Captain Gregson, and what unfolds is typical procedural fare. It's no more or less challenging than whatever the audience is going to see if they throw on an old episode of "NCIS", "The Mentalist" or "Law and Order: Criminal Intent".
This is the crux of the show's problems, because writer Robert Doherty's attempt at imbuing his show with the gravitas one expects of Sherlock Holmes doesn't come off. At worst the episode can be boring, but at best it's simply there, limply unfolding, one thing after another. There are some genuine attempts to be Sherlockian, and it's clear Doherty is a fan of the canon from the little references he manages to pepper through the script (the beekeeping is a great touch), but they won't be nearly enough for the fans hoping for something in the vein of the BBC version.
What's more impressive is the Johnny Lee Miller great performance as Holmes. He's got a frazzled charisma and shines in those rare Sherlockian moments, and even during the lacklustre procedural scenes he's putting talent into thankless material. "Elementary" wastes him; Miller would be brilliant in a more faithful or character-centric adaptation of the Sherlock Holmes canon. But the character on the page feels toned-down and stripped back. He's cookie-cutter, and much like the show itself he's got more in common with the current slate of procedurals than the literary character.
Similarly, and despite an earnest performance, Lucy Lui's character simply isn't Watson. It's nothing to do with the gender swap: Joan Watson has nothing in common with the original character except a background in medicine. Doherty really needed to take a teaspoon of concrete and just make her a new character, because as is, the show is worse off for slapping Watson's name on someone so different. As for Aiden Quinn, he's a solid presence as Gregson (another half-hearted nod to the canon), but the character is way too big a doormat to be interesting.
And finally, to get the inevitable comparison out of the way, "Elementary" is nowhere near as good as "Sherlock". It's another show about the uninspired mysteries a quirky detective must solve, one that happens to have names from the Sherlock Holmes canon slapped on it. It's a strange complaint, given the original canon was essentially a literary procedural, but these days people want more from their stories. This could've been a character drama about a flawed, interesting protagonist who happens to solve mysteries, but it's not. It's a CBS procedural.
Score: 5/10