Contributor: John Keegan
Written by Matt Corman and Chris Ord
Directed by Andrew Bernstein
Now that the direction of the season/series has been set more or less in stone, it's all about how the writers are going to manage to make it work. On the surface of it, as I mentioned in reviews for previous episodes, the majority of the damage is to the integrity of Arthur's character arc. In one fell swoop, he is rendered all but useless again. This episode doesn't change that, but it does show that Annie's characterization is back on track.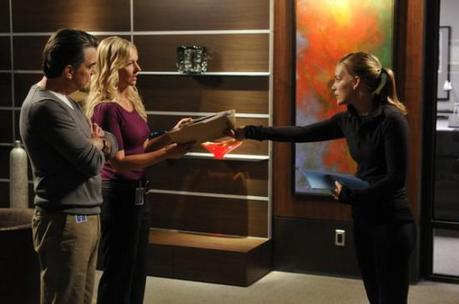 If this is Annie taking a dark turn, then I'm more than happy to see it. From my perspective, this is the logical extension of what Annie was learning under Lena's guidance. Maybe Lena was doing all of this with a few different endgames in mind (like any good high-level operative), but the implication is that she let Annie live because she wanted to destroy her reputation in the CIA and leave her few alternatives other than to take up her eventual offer. It's a messy plot progression no matter how you slice it, but it does provide a context for Annie to be competent yet outmatched.
It also means that Annie has been pushed to the edge, and since she's already shown a talent for going of the reservation and improvising in the field, that's a dangerous place for her to be. I don't think the writers have should her to be the awesome operative that they constantly play her up to be, but she is pretty good. The downside to that is the net effect should she actually go rogue. I doubt it will happen, but this entire situation has all but ripped the floor right out from under her.
Even Auggie isn't quite persuasive enough to get her head back in order, and that's saying something. I know there's some debate over the extent of the Annie/Auggie relationship (see some recent episodes of The Critical Myth Show on VOG Network as evidence of that), but Auggie is pretty much giving her what she wanted at the end of the second season. Unfortunately, she's not mentally in the right place for that, and I worry that her actions in the wake of taking out Lena will only serve to drive another delaying wedge between them.
On the other hand, if the writers are smart, they will come back for the second part of the season with Annie looking for a way to repair her fractured world, and turning to Auggie as an anchor in the psychological storm. Not only would that begin to pay off their enormous chemistry since the very beginning, but it would remove the annoying prospect of yet another setback for a relationship that seems more or less destined.
But the real issue for the series continues to be the Arthur/Joan side of the equation, and they are as potentially irrelevant as ever. Joan's decision to resign could shake things up even more than they already are, but what difference does it really make? Wasn't Annie already out of the DPD? If anything, Arthur's department looks like a complete mess, so how good can his future prospects be? I wouldn't care, except the writers have clearly indicated within the plot structure that their fate pertains to Annie's future.
Writing: 1/2
Acting: 2/2
Direction: 2/2
Style: 2/4
Final Score: 7/10