Contributor: John Keegan
Written by Michael Chamoy
Directed by Nick Copus
This season of "Alphas" is really coming together, as this episode capitalizes on the discovery of the devices used by Stanton Parrish to revisit one of the more interesting characters from the first season: Skylar. Played by the ever-popular Summer Glau, Skylar is the kind of asset that both sides would love to utilize, regardless of her desires.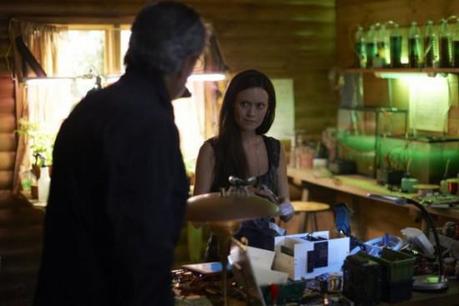 Skylar's time in the Alpha enclave has definitely changed her. Despite what Team Rosen has done for her in the past, she has been influenced by the Alpha leader and his hardline opinions. What's a bit surprising is that she hasn't seen that her new community isn't helping her very much with such mundane tasks as parenting her daughter. Skylar is at wit's end, but she seems largely on her own.
It does, however, remind us that Skylar's main concern is her daughter, and as such, that makes her daughter a powerful bargaining chip. Parrish is content to use the notion of what kind of world Skylar wants her daughter to live in as a means of persuasion, but how far would he have taken it? After all, it's clear that Parrish wants to get Skylar on board because of the potentials provided by her ability.
Parrish's device definitely sends an Alpha's ability into overdrive, and in Rachel's case, it becomes a trigger for her self-control to increase dramatically. As predicted, that is also something she wants to explore on a more carnal level. Much of that is left to the imagination, which is probably for the best. It should be interesting to see if John comments on being with a woman who, even when just making out, can go ultra-orgasmic!
The arrival at "Alphaville" put Rosen's priorities into direct conflict. He tends to make decisions based on a desire to stop Parrish, a desire to do what he thinks best for the Alphas, or a desire to help the members of his team. At one point or another, those desires are challenged or forced into conflict. In particular, I love that various Alphas continue to challenge Rosen's assumption that he has the right to act on their behalf. Does he really have the right to make the decisions he has?
Meanwhile, Dani is becoming more and more conflicted as her actions and choices place Cameron and her father in danger. Now that Rosen has reason to think that someone is a mole in the organization, how long will it take for Dani to be discovered? Or will she use her ability to influence Cameron enough to make him look guilty?
Writing: 2/2
Acting: 2/2
Direction: 2/2
Style: 2/4
Final Score: 8/10