Contributor: Gregg Wright
Written by
Directed by
Ah, the "treasure hunt". Already, it's been the focus of the show's longest-running story arc, and at least one episodic story that I can think of. I remember that episode being a fun, lighthearted romp, and it left me wishing that "White Collar" would do more "treasure hunt" episodes. Wish fulfilled. "National Treasure"-type escapades are nothing new for "White Collar", but it's rare to see it so unabashedly embraced as it is here. The episode's climax doesn't quite live up to the promising earlier half or so, but an amusing and intriguing last-minute twist seems to leave the door open for sequel episodes.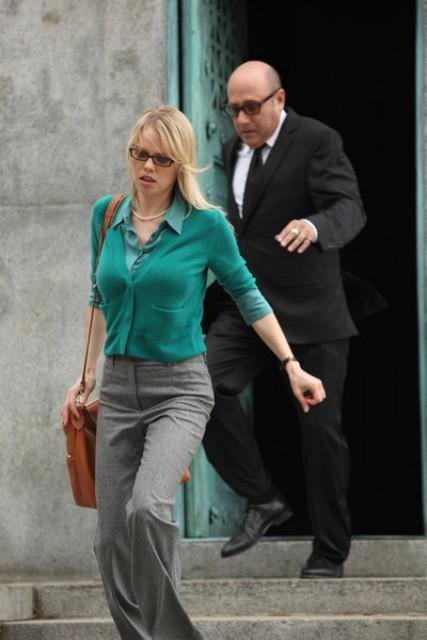 Perhaps the best thing about this episode is how Mozzie is further developed. On paper, these emotional scenes and reveals about Mozzie's psychological state could have seemed a bit cheap, but it seems to work extremely well in the final product. Willie Garson gives Mozzie more range and emotional depth than ever before on the show. And this exploration of Mozzie's past, and how it led to his current personality, fits in perfectly with the parental theme that's present in Neal's current story arc. I also liked how Mozzie's surrogate father, Mr. Jeffries, is included in this expansion of Mozzie's past. I'm still hoping that Ernie Hudson will show up again at some point in the show.
Not much time is spent on the myth-arc. There's only a brief scene at the episode's opening, where we discover that Ellen's secretive friend, Sam, has an e-mail account that he's been recently checking. This offers Neal a way to contact Sam and set up a meeting. Against Peter's advice, Neal lets Sam set up the meeting on his own terms. Apparently, Neal worries that a meeting on neutral ground might scare him off. Better to make a gesture of good faith from the onset. Now we know what we'll likely be seeing next episode.
This episode's antagonist is has a sufficiently believable motivation. Having written a book making dramatic claims about the supposed existence a secret spy ring in New York–one that George Washington originally created and tasked with spying on the British–the author (a man named Stringer) is now desperate to regain some credibility. And the best way to do that is to find the American flag that General Washington carried across the Deleware, which is thought to be in the possession of the modern-day Culper spy ring.
The final scene, in which Peter and Neal begin to wonder if Mozzie might be onto something–that the Culper spy ring might, in fact, be real–is a bit on the cliché side. But the twist reveal is surprising enough that I can overlook this. The episode did a rather competent job of selling the idea that this is just another one of Mozzie's baseless conspiracy theories. A strong case is made for the idea that Mozzie has a very strong emotional bias in favor of the spy ring being real. But this time, Mozzie was right. And besides, even if he'd been wrong, believing that he'd been proven right was just the emotional boost he needed at the time.
I've been very pleased by the consistency of the season so far, which stands in contrast to the problematic previous season. "White Collar" is very much back in form. Not only can it deliver a fun, character-driven stand-alone (?) episode, the long-term story arc shows signs of being a return to the surprisingly intriguing music box thread, which (along with the fun chemistry between the two leads) kept me more engaged with the show than I expected to be for the first two seasons. "White Collar" can be a very breezy show (often overly so), which means that it needs a serious, somewhat darker myth-arc in the background to balance things out. So far, this season seems to be hitting all the right notes.
Score: 8/10