Contributor: Gregg Wright
Written by Andrew Cosby and Jaime Paglia
Directed by Matt Hastings
It almost goes without saying, but this was definitely the most difficult "Eureka" review I've ever had to write. My deep fondness for the show demands a very careful approach to writing the review for what is very likely the very last "Eureka" episode that will ever air. I've spent many lines in the past few reviews lamenting the weaknesses of the fifth season and the unfortunate replacement of the final, six-episode season with only a single episode. But "Eureka" is now over. Was the finale a fitting and satisfying send-off to this beloved sci-fi show?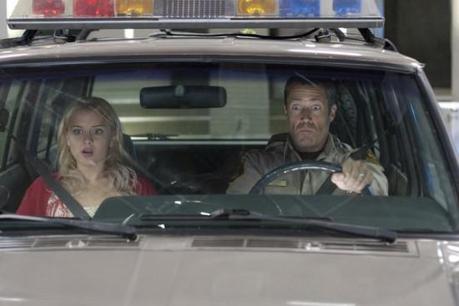 The short answer is: yes… for the most part. But the long answer is a lot more complicated. It's impossible to wrap up a show like this in just a single 45-minute episode and leave the viewer feeling completely satisfied. The whole thing is over and done with so quickly, it's easy to get the feeling that it was a rushed affair. A two-hour finale would have been far better. Still, given the time constraints, I'm not sure I could have done any better. Show creators Andrew Cosby and Jaime Paglia, who wrote this episode, put forth a reasonably strong effort to make sure that everything ends as it should, following my advice from the previous review pretty closely.
For the most part, the finale plays it safe. Perhaps a little too safe, in some respects. The wormhole issue is meant to create the sense that, despite the fact that Eureka is closing (and the show coming to an end), that this is "Just Another Day" in Eureka. It is sufficient, in that respect, but nothing more. Overall, I found it to be one of the more underwhelming parts of the finale. Jack's heroic dive into the wormhole to save the day provides a nice moment of reflection on his role in the show, but it's played a little too light and lacks the emotional "oomph" that could have helped make the finale more memorable. Like many things in the finale, it's all resolved a little too easily (despite the fact that Carter ends up falling out of the sky).
But in its attempt to play it safe, the finale does get a lot right. The return of a few familiar faces, including Zoe, Taggart, and Trevor Grant, go a long way toward making the episode feel like a proper finale. Additionally, nearly every lingering worry is resolved and tied up in a neat little bow. The town is saved (and no longer has the DOD breathing down its neck), Holly's memory has all-but fully returned, Jo and Zane are engaged, and Henry is the new head of GD. Heck, even Beverly Barlowe gets her moment of redemption by turning Senator Wen over to the authorities and getting Grace released. A closing montage goes even further in nailing home the point that all is well and as it should be in Eureka. And the final scene very nicely bookends the entire show, directly connecting with a scene from the pilot episode.
So yes, the finale does hit most of the right notes. It's not quite the masterful, moving, thematically rich finale that it could have been, but it is a pleasant and suitably sentimental finale. It also left me wanting more, and I'm not sure whether that's a good thing or a bad thing. (I suppose the weaknesses of this season play a part in making me wish that this wasn't the end.) I could certainly do with more of Deputy Andy's broad smile and infectious optimism, more of Carter frantically trying to save the town every week (always destroying his jeep in the process), more of Fargo being, well… Fargo, more of Vincent's absolutely delightful cooking and personality, Café Diem itself, and more of all the other wonderful things that happen in this crazy little town in the Pacific Northwest. Allison was right when she said that Eureka has always been about the people. When I say a bittersweet goodbye to "Eureka", I'm really saying goodbye to the characters.
At the very least, I can be grateful that "Eureka" didn't overstay its welcome. And I can be grateful that the writers/showrunners had a chance to give it a respectable ending. After all, it could have been a whole lot worse. There aren't a lot of cancelled shows that could boast that their network gave them an extra episode to finish things off, out of respect for the fans and the cast and crew. And I'll close by expressing how grateful I am to that cast and crew for creating such a wonderful show. It had its issues–perhaps in this season more so than before. But I appreciate that I've had the chance to watch such a fun, offbeat, quirky sci-fi show, whose heart was always in the right place. A show that continually championed the value of science. A show of humor and adventure, and one that never forgot the importance of its characters and their often tumultuous journeys. So long, "Eureka".
Rating: 8/10
(Season 5 Final Average: 7.3)