Contributor: Bronzethumb
Written by Jeff King
Directed by Patrick Williams
To say that "Continuum", a show that already toys intelligently with the conventions of time travel on a regular basis, is doing an episode steeped in temporal theory is really saying something. It's also saying something that for the fifth episode in a row, the show has delivered: the likable characters, interesting stories and smart writing are all present and accounted for, and the show continues to be a little powerhouse of science fiction television.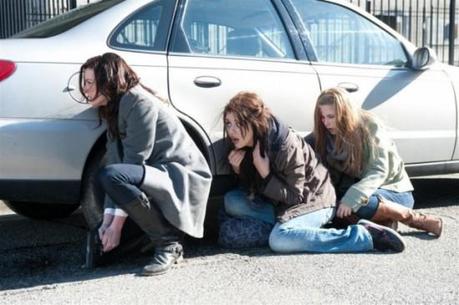 With Edouard back in charge of Liber8, they decide to adopt a few new tactics in waging their war against the society of the future. Just what those tactics are becomes apparent when a girl turns up dead — a girl who happens to have the same name as Kiera's grandmother. When Kiera realises that Liber8 is trying to kill her ancestor, it's a race to find and protect Lily, her grandmother who's only a seventeen-year-old girl in 2012, before anything can happen to interfere with time. It's another example of the show deciding not to draw out storylines and meander around the potential sci-fi ideas. Instead, "Continuum" leaps feet-first into the nuts and bolts of time travel stories with a refreshingly intelligent, upfront attitude.
The idea of Edouard framing the events of this episode as a "test" is quite simply brilliant, because anyone watching the show is going to be curious to know the exact same things he wants to know. So it's gravy that the execution of this idea is in a way that's both surprising and personal. The basic idea of going after Kiera's grandmother isn't the most original thing, but the way it plays out has a refreshing earnestness to it, again seeming like a series of very real, very human reactions to the chaos, and that's still one of the most engaging things about "Continuum". Discovering how time travel works will have to come at a cost, and not necessarily an obvious cost, yet the audience is just as curious as Edouard so feelings are split, and split brilliantly, for the duration of the episode.
All this culminates in a layer of tension that runs through everything, in a way that wouldn't be possible if the writers hadn't done such a great job of setting up this realist mood and tone. We feel that no one's safe, that the villains are as capable as the heroes but more ruthless and victory for the side of good and right isn't assured, in part because who's actually good and right is kind of unclear at times. All the set-up pays off wonderfully throughout the running time and when things finally do come to a head in the final minutes, the audience is genuinely on the edge of their seat. There's no guaranteeing which way things will go and who might suffer and what, if any, rules are in place. How many shows can boast that same sense of wonderfully suspenseful uncertainty?
As mentioned earlier, the reason this all works so well is because the show is grounded in its characters, and on display was the relationship that formed between Kiera and her grandmother, Lily, who looks like she's just come out of her audition for Kenzi in "Lost Girl". There's an unexpected thread of humor running through the first part of the episode as all those familiar expectations, the rare glimmer of hope and excitement from Kiera, they all get crushed once she actually meets Lily and discovers she's a bit of a screw-up. And from the humor grows a more serious introspection, a chance for the family elements of Kiera's backstory to be explored, a counterpoint to get into Kellog and Alec's stories that are (mostly) geographically removed but thematically linked. There are some moments that verge on saccharine but they feel earned and make for great breathers between the moments of tension or head scratching.
Firing on all cylinders: that's the continuing opinion of "Continuum", and it managed to kick things up a notch with a tight, intelligent and character-driven science fiction story. At the halfway mark, the strongest installment of the show to date is a damn strong installment of television in general, and every indication is that the story will keep building in the back half of the season.
Rating: 9/10