Contributor: Henry T.
Written by Etan Cohen
Directed by Barry Sonnenfeld
One of the more reliable and unfortunate truths in cinema is that the second sequel, or third movie, in a movie franchise is often the worst of the bunch. There are a myriad of reasons for this, from audience fatigue over a franchise's waning popularity to laziness from all those involved in front of and behind the camera. I've learned over time to come into a film with a "3″ at the end of it with significantly lowered expectations. "Men in Black III" also has the advantage over other third films in a trilogy because it has been a full decade since the previous iteration came onscreen. Absence makes the heart grow fonder, as the cliché goes, and in this case, the third film basically denies that "Men in Black II" even existed.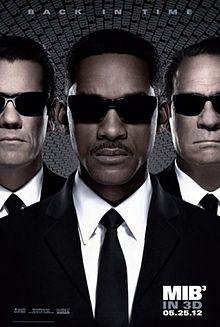 This was absolutely the best course of action to take with regards to everything involving the "Men in Black" movie franchise. The first one was an underrated gem, sharp, witty, and perfectly paced. The second film was an elongated product placement disaster. The main players are a little older and a little wiser this time so there's this easy vibe that permeates through the third film. It surprisingly works, for the most part.
"Men in Black III" opens with Agents Kay (Tommy Lee Jones) and Jay (Will Smith) back in action, protecting the Earth from deadly aliens who want to destroy the planet. This is a complicated plan hatched by Boris the Animal (Jemaine Clement) to kill Kay using a familiar science fiction tool, time travel, before Boris ends up back in jail. So Jay also has to travel back to 1969 to stop Boris from completing his plan. There, he meets Young Agent Kay (Josh Brolin) and they have to figure out what happens to him before Boris kills him. The film has fun with a lot of historical figures and events from that time, including a very significant one in the Moon landing.
This may sound like an oversimplified summation of the plot, but the film plays around with the ridiculousness of the situation Jay is in once he travels back to 1969. He is the modern man stuck in a time that doesn't have many of the amenities he's used to and takes for granted. The plot functions like clockwork until the final act, where there is a surprising amount of emotional resonance that you normally don't get from a science fiction comedy. Sure, there are logical fallacies and plot holes inherent with any story that deals with time travel, but that's largely brushed off.
There is even a great supporting character in an alien named Griffin (Michael Stuhlbarg), who can see all different possible events that can occur at once. He is a weirder, goofier version of the Observers from Fringe, and a rather unexpected delight from this movie. When Griffin enters the picture, it's like the screenplay gets a boost in quality. His random thoughts can be funny at times, but they can be poignant as well. He tells this story about the origins of a baseball and why a particular event occurred in a way that makes it sound like poetry. A lot of the second half of the movie, pretty much after Jay comes to 1969, really works whereas it seems like everyone is going through the motions in the present.
I say that the film works very well once Jay is transported back to 1969. That shortchanges some of the characters in the present timeframe, like Kay and Agent O (Emma Thompson). Tommy Lee Jones gets very little screentime and dialog so most of his acting here is through facial expressions. The Kay of the present time seems overburdened by regrets from his past, and because he is so terse and silent about what happened to him, it adds to the mystery that Jay has to solve once he arrives in the past. There is a reason why Kay doesn't want to talk about everything, and especially to Jay.
When Jay meets Young Agent Kay (and Brolin does a rather eerie impression of Jones), the film becomes this really weird mix of both sight and dialog gags between the two of them. Andy Warhol (Bill Hader) pops up for a bit. The "Amazin' Mets" are talked about. The historic Moon landing, as I said, figures into the overall plot by the end. Will Smith seems to be having fun again, and it's good to see him on a movie screen for the first time in four years. I want to be as cagey as possible with details about the movie because many of the gags surprised me. I thought the jokes would be long played-out (and some, like the celebrities who are secretly aliens being track by MiB, are just that), but it's all goofy fun. I mean, one alien is used as a literal bowling ball. I'll leave it at that. I found that gut-busting.
The villain, Boris the Animal, is appropriately menacing, but doesn't figure much into the plot overall. He's only there to give both Young Agent Kay and Agent Jay something to fight against. All of it leads up to an emotional conclusion that actually echoes back to the events from the first "Men in Black" film. Like I said, this film rightly treats the second film as if it never existed. I found a lot of that final act very moving. On the surface, this was a goofy comedy, but there's a message of optimism squeezed in there as well. I'd be hard-pressed to call this film great, but there are worse movies out there. This isn't a bad film, and that's a better descriptor than I would have expected to attach to the film when I came in.