Contributor: Henry T.
Written by Erin Levy and Matthew Weiner
Directed by Jon Hamm
Fear of the unknown drives nearly every character in this episode. It's entitled "Tea Leaves," which I think is a clever way for Matthew Weiner and his writers to give out the message that everyone in the Mad Men world cannot accurately predict the future. The people in charge at the agency are slow on the uptake to change, with the young guard always eager to replace the old, and keep the struggling company from going under. Change is coming for them, and if they don't adapt, they will die.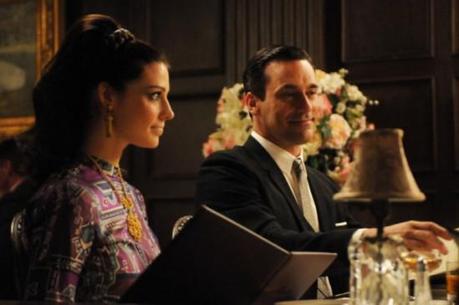 That philosophy could still apply to Betty Francis, as she is awkwardly given a health scare here, but seems to cling to the old ways. Betty still remains the sole problem character of the series, though. This episode reveled in showing the audience why that is. The fact that she is unwilling to change her mindset or actions is keeping the character's trajectory from moving anywhere. She seems content with everything in her life. That's not the best mindset to have in those times of change.
A lot of work still needs to be done at SCDP. That starts with getting Mohawk Airlines to commit to the agency. Pete set up the meetings with the executives, but Roger is claiming it as his account so he has to do the grunt work. Given Roger's reduced status within the agency, this is not entirely true, as he delegates the task of finding a new copywriter for the account to Peggy. She sets about finding a suitable copywriter from a stack of portfolios, choosing Michael Ginsberg based on some slick ads that appeal to her. Stan warns that she might be picking her replacement. Whether that proves to be a falsehood or eerily prophetic remains to be seen.
Nevertheless, Peggy might be smart to watch her back. Ginsberg proves cocky and really unlikable in his initial interview with Peggy, then smooths out the rough edges when he speaks to Don. Ginsberg has no idea of the power structure at SCDP, yet shows himself to be a real slick operator. He knows where the power to hire and fire truly lies and plays to that knowledge. He sells himself to the chief ad man, which I think is quite ironic given what SCDP's business is. It's overwhelmingly sexist (only because he was not charming to Peggy), but effective.
The brief glimpse into his home life, with an aging, traditionalist Jewish father, indicates everything he did at SCDP was for show, and not really his true demeanor. The point is, there's always someone new and rising out to take the place of the old guard. Pete sticks it to Roger in the end by hogging all of the credit on the account, even though he wasn't the one who did the grunt work. Roger knows he's slowly being replaced by Pete, and this has been true for some time now. Even the account is an old one, and it feels like Pete is after bigger fish, which would be necessary to save the company from ruin.
The dated mindset also spreads to Don. On a client's orders, he and Harry attend a Rolling Stones concert to secure them as spokesmen for a Heinz commercial. Immediately, he feels out of place backstage. Two teenage girls talk to them, and much of the conversation is awkward. Harry is part of the in-between generation, not as young as the girls but not as old as Don, and he tries too hard to seem cool. Don has kids (including a daughter not too far from being in the teens' place at the concert) and treats one of the girls with fatherly care. With such a large gulf in age and experience between the two of them, how can he effectively reach someone like this with a TV ad? How long can the Rolling Stones (or whatever is the next big fad) be relevant to someone like her?
Don is still good at his job, as proven by his probing questions into what makes the girl tick, but there's a sense that all of this is passing him by. It was only a few years ago that Don Draper was operating at peak efficiency. He could effectively bridge the gap between young and old; make his ads appeal to every demographic. Now? Well, he has a young wife, yet seems really out of the loop with the generation that comes after him. That could come back to hurt him in the future.
Betty used to be that young wife, suitable arm candy with the big Madison Avenue ad man. She's getting older, has had a few kids, and is now on her second marriage. What did her good looks end up getting her? Being an ineffectual housewife stuck in a mansion that has a funereal feel to it, on the couch eating Bugles and watching TV, with a possibly life-threatening tumor that is the root cause of her weight gain. The news of the tumor springs her into action briefly, only she calls Don for comfort. She has a husband, yet remains in the past because it makes her feel better.
The phone conversation between her and Don did make me feel some modicum of sympathy for Betty. The ice queen lets down her guard, and for the briefest of moments is a real person. But she gets the news that the tumor is benign, and I don't think she'll change who she is. She talks with Henry and all he sees is the Betty from the past instead of who she is now. I think it was a mistake to make the tumor benign, thus returning Betty back to stasis.
Betty has been so separated from the action and main narrative that it feels like the writers don't know what to do with her at this point. Having her deal with cancer would at least add to the themes of mortality the writers want to explore this season. That said, there could be other things on the horizon for Betty this season. It's early enough not to write off what can be done about the show's Betty problem. It will remain as such if the writers don't quickly install some kind of change for her, though. She has to fit in the show's future somehow, otherwise she'll be left behind with the old guard.
Grade: 7/10