Contributor: John Keegan
Now that the scope of the season has been more or less established, it's a logical time for an episode that serves to move certain story elements forward. Foremost on everyone's mind is the fate of Naevia, since it is one of the few loose ends that hasn't been substantially addressed. That matter is corrected in this episode, but as with so many things in the world of "Spartacus", it's just not that simple.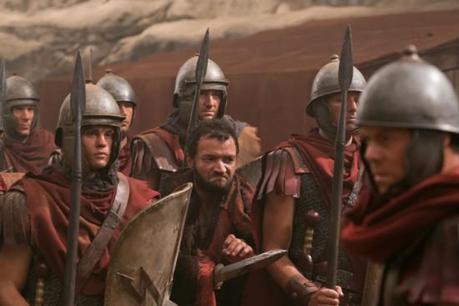 Crixus has been driven by the thought of rescuing Naevia, so it makes perfect sense for that to become a primary plot element before too much time passes. With this season being called "Spartacus: Vengeance", there's more than just a love of freedom involved. When Crixus is told that Naevia is dead, his all-consuming grief threatens to dissolve the growing rebellion, but ultimately he pledges his support to Spartacus' cause, in the name of retribution.
Of course, since there was quite a bit of press coverage on the change in casting between the first and second seasons, we knew that Naevia was not only alive, but poised to take up an important role. We also know that Oenomaus is going to get out of the clutches of Glaber sooner or later, so why not have Crixus' capture lead into that plot point? The only real question is whether or not Crixus sand Oenomaus escape together on their own, or if they must await some rescue operation by Spartacus.
Lucretia is certainly getting her mojo back, as she uses some information from "Gods of the Arena" to point Ashur in the right direction during his torture sessions. Clearly this is going to mess with Oenomaus' head even more, and he's not in a great psychological space as it is. I doubt he will willingly commit himself to Glaber's cause, but even without that plot turn, he'll be gunning for Gannicus should they meet.
I suspect they will. We know Gannicus is also a part of the rebellion leadership thanks to history (is history from over 2000 years ago a spoiler?). By the same token, we know that Glaber's forces confront the rebels at Mount Vesuvius, which Spartacus mentions as a defensible position in this episode. So the story is definitely moving in that direction, and one can anticipate that this what the season is building towards, slowly but surely.
The presence of Varinius makes sense as well, given that Glaber's fated failure to capture Spartacus at Vesuvius leads to Varinius' equally failed campaign. History also tells us that Oenomaus might have died early in the rebellion, so if the writers follow historical narrative, he could be a major casualty this season. Considering his mental state in the previous episode, that has already been foreshadowed. Mixing all of that into the endless Lucretia/Ilithyia machinations is genius.
Agron's deception regarding Naevia serves to bring up the debate, among the leadership, of the "greater good" that might be served. Is it better to sacrifice Naevia for the swift security of the fugitives and an assault on Pompeii, or is that meaningless if they begin placing the value of one life below the good of the whole? Agron is lucky not to be gutted right then and there, but his presence allows the writers to explore the full range of perspectives within the rebel camp.
If there is one disappointment so far, it is the apparent waste of the introduction of Seppius and Seppia. What was the point of bringing them into the mix, if all they do is sit in the background and make the occasional comment? All signs point to the failures of Glaber being partially the result of household strife, so let's get on with it!
Writing: 2/2
Acting: 2/2
Direction: 2/2
Style: 2/4
Final Rating: 8/10