Contributor: Gregg Wright
This could have easily been an average or sub-par procedural episode, but the beauty of "White Collar" is in just how often they try to incorporate a personal connection or some degree of myth-arc development into the stand-alone episodes. The Stradivarius plot, though functional, is not especially impressive on its own. But when paired with the other elements, like Sara's return, and set against the backdrop of building suspense over whether or not Neal's sentence will be commuted, it becomes an above-average installment.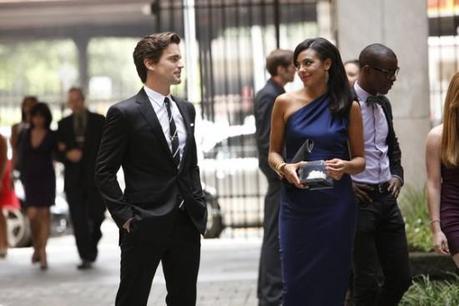 More than anything, I wanted to see just how the writers would introduce a threat to Neal's freedom, and this week provides the answer. I'd nearly forgotten about Agent Kramer (even though he played a fairly substantial role in the lead-up to the mid-season break), but this is the perfect time to bring him back into the mix. He wastes little time in plotting against Neal, immediately digging into Neal's files, as well as approaching both Diana and Jones about their relationships with Neal. Both remain loyal, as expected. But Kramer is just getting started. I expect him to become a major threat by the end of the season.
While Neal is left to take the lead on the Stradivarius case, with Diana and Jones in a supporting role and Sara as his partner, Peter spends much of the episode dealing with a more domestic issue. The awkward in-laws plot is a TV staple, but "White Collar" manages to feel more funny than generic. I enjoyed seeing veteran actor Tom Skerritt in the role of Ell's father and the man who seems to relish making Peter squirm. The situation becomes terribly awkward for Peter, and since Neal is otherwise occupied, it's Mozzie to the rescue, which simply adds to the fun.
It was nice to see June again, as brief as the scene was. She's a classy lady and an absolute perfect (almost too perfect) friend for Neal. I can't remember when we last saw her, but it seems like it's been a while. This reminds me of how odd it was to have June's granddaughter, Cindy, introduced in the pilot episode, only to re-appear briefly in the season 3 premiere, and then never be seen again. I thought I'd read an interview with one of the show's producers that suggested that she'd have a recurring role during the third season. Did plans change for some reason?
"Pulling Strings" works well as setup for whatever endgame is coming in the final two episode of the season, making up for the slight weakness of the procedural case by giving the villain a connection to Sara and setting up Kramer as the main obstacle in the way of Neal's freedom. Neal's suggestion to Mozzie that he could become a paid consultant to the FBI makes a lot of sense, but I'm hoping to see some serious complications arise before that can happen. Kramer is a strong antagonist, but we'll still need some bigger surprises to cap off the season and set up a new status quo for season 4.
Rating: 8/10