Contributor: J.M.
Any show that has had as much behind the scenes trouble as Alcatraz is bound to have a much rougher beginning. Much like the previous episode, "Guy Hastings" is a step in the right direction, addressing some of the issues with the main cast and mytharc while keeping up the strong secondary elements as well. While there are still some of the same issues with the main characters, particularly Madsen and with the believability of the mythology, but these issues aren't going to be solved in one episode. The writers started down this road, shoring up some of the fundamental weaknesses without neglecting the strengths of series thus far.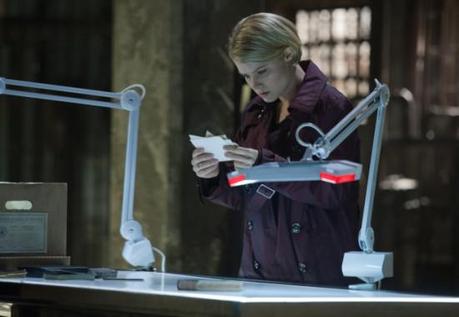 This episode and "Cal Sweeney" are probably the most coherent and cohesive back to back episodes. Watching the other episodes was akin to being dropped in after the pilot; certain elements were ignored entirely, some pretty basic motivations of Madsen and Soto were dropped, and characters were forced to behave to serve the plot rather than allowing it to develop organically. This episode manages to address many of these issues, if not entirely satisfactorily then certainly organically to the story. Even though some concerns and plot issues remain, it really is rather remarkable that the writers managed to pull this together.
The writers take up a number of loose hanging plot threads and one significant unanswered question to cram into this episode. We now know that the Madsen family is important to this story, based on Hauser's attempt to recruit Ray in the 90s, seemingly beyond just Tommy's rogue status to both Hauser's group and the group that took the 63s. It makes a certain amount of sense, because other than her connection to her grandfather she really doesn't bring much to the team other than being Soto's babysitter. She certainly has shown little capability as a detective. Madsen also understands this dynamic, and it was gratifying to see her verbalize this to Hauser. Unfortunately, that realization is limited as he just ducks back into the room with the scientists, and she refuses to follow and demand some answers.
We also get a broader picture of how the 63s came to be in this situation because of the choice of the 63 of the week: a guard. This is someone who would have a very personal reason to come after Ray, yet his background as a guard allows the team a greater window into what the 63s perceived when this change happened. We still don't get much outside of some vague references to chemicals, illness, isolation, and tectonic movements, but I get more confidence that the writers have a handle of these issues than in previous episodes.
This episode is the first one that really gives evidence that the background production turmoil has been settled and the writers have managed to get a handle on some of the problems that caused it. There still is much work to be done, but this was definitely a big boost of encouragement.
Rating: 8/10