Contributor: Henry T.
Written by Rafe Judkins and Lauren LeFranc
Directed by Jay Chandrasekhar
The writers for "Chuck" have been so used to writing possible "finales" for the show over the past four seasons (because it has lived on the brink of cancellation since about the second season) that I am not surprised they nailed the landing when it finally came. The two-hour finale was focused on one singular thing: Subverting Quinn's plan to brainwash Sarah and acquire the last copy of the Intersect.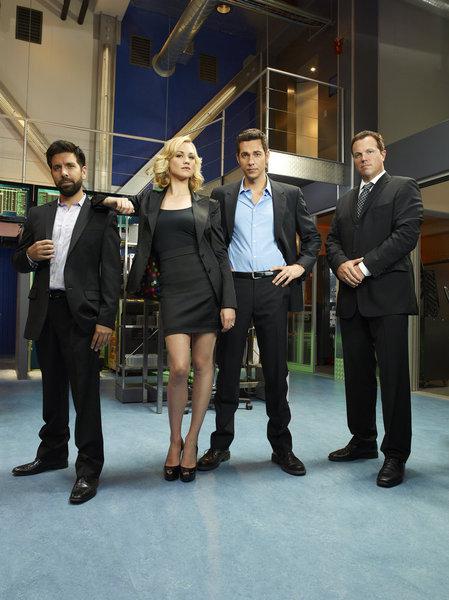 But over the course of those two hours, "Chuck" became so much more than that ordinary plot. It became a tribute to the history of the show, of Chuck and Sarah's long-time romance, and a tribute to the show's fans. I thought they would give Chuck and Sarah the happy ending they have long deserved, with the house, the picket fence, the dog, and the baby, but the choice that was made for the end was surprisingly fitting for what has been shown the past five seasons.
The first thing the show has to deal with is further the complications created by Quinn's brainwashing of Sarah. We obviously know that the Sarah onscreen is not right so it's easy to side with Chuck in his attempts to get his wife back. It's not just Chuck who is alone in that task. After five seasons following these characters, we've gotten to know these people, to understand their relationships, and what they all mean to each other. So Ellie does something drastic, like crashing a car, or that Casey could make a personal appeal to Sarah, all with the purpose of saving Sarah from herself. The entire first hour is dedicated to showing how much Sarah has lost, how far gone she is, and what it will eventually take to restore her memory. It doesn't feel like setup for the final hour (as most penultimate episodes of shows tend to be), but really an extension of the plot up until now.
All of it leads to the best scene of the episode, in my opinion: Chuck kidnapping Sarah after the Ellie car crash and taking her to the house they always intended to buy. His desperate plea for Sarah to try and remember what they had together, what they are building for the future, was as emotionally honest and heart-wrenching a display as I've ever seen this show portray. Chuck is a man who always wears his heart on his sleeve, and you could see that Sarah ever so slightly remembered their life together.
It was overwhelmed by Quinn's brainwashing technique, which then required Casey's intervention with her mission dossiers. That was impressive enough, that she would document everything regarding her mission as Chuck's handler, and proved very effective because she can't argue with herself. Her true self. The disc Casey gives her is also a great opportunity to fast-track through some of the show's greatest moments, and gives insight into Sarah's point of view, something that has largely been absent through the show's run.
There is no question by the end of the first hour that Chuck and Sarah will take down Quinn, in some way. Only a few more complications get in the way before the true end. The full restoration of Sarah's memory is so close. They are only part-way there by the end of this fine hour, so it's left up to the final episode to finish the story. This was a great start.
Grade: 9/10