Contributor: J.M.
The follow-up to the problematic pilot crystalizes what we should expect from the show on a regular basis: a serialized procedural based on criminals who return to the present day, with bits on the serialized mystery. While still dealing with some obvious growing pains, "Ernest Cobb" manages to address some of the glaring issues in the pilot and get the ball rolling, while developing some compelling secondary characters. Unfortunately, the main mystery still is simply too obtuse and lacking in context, leaving me with a bad taste in my mouth.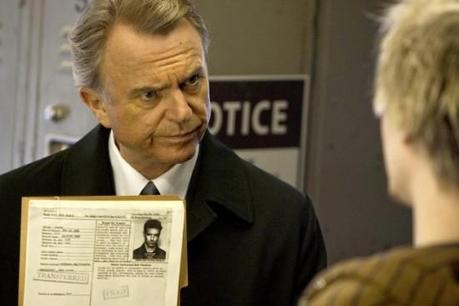 The biggest improvement was the two main 'outsider' characters. Both Madsen and Soto in the pilot were pieces moving on chess board, essentially bodies with attributes tacked onto their faces, but we finally get to see a little bit more of who these people actually are, and some recognition that they are in out of their depth. While Soto is a bit more explicit about his concern, Madsen's reaction to seeing Bannerjee getting shot right in front of her shows just how much she didn't understand what she was getting herself into.
While it is good to see our erstwhile heroes a little lost at sea, there is still very little that they bring to this special task force to hunt down those who escaped from Alcatraz. One would think that there would be easier ways for Hauser's crew to get rid of them than simply include them on the team. I like that the writers chose to maintain Hauser's relative distaste for the pair, and hope that the writers continue to draw on that plot thread.
The case of the week was also encouraging. The character of Ernest Cobb was very much like Sylvane in the previous episode, a character that seemed more developed than the ones hunting him. Watching him play cat and mouse with the old Warden was excellent entertainment. I also appreciated how his story interacted with Sylvane's, implying that there will be far more serialization between the inmates and their cases. I also enjoyed how he had many verbal and personality quirks that went unexplained in the episode. Hauser also shines again, reinforcing the personal nature of his quest to discover what happened to the inmates at Alcatraz.
This leads to the two major incidents in the episode: Cobb's shooting of Bannerjee and the subsequent revelation that she was alive in 1960 and that she appears to be the same age. I thought it was a bit of a cop out to have her survive a sniper bullet to the chest, but I'm willing to let that one pass as a matter of personal preference. As for the revelation, it felt entirely forced and falls back on the fact that the main mystery of the series, how every soul on Alcatraz (including apparently the guards' families) disappeared, who did it, and why, is so painfully underdeveloped that there was simply no force behind it. It felt a bit like a stunt.
All of this makes for an odd reversal when it comes to the traditional genre dichotomy: it is the main plot that is terrible and underdeveloped, and the episodic and procedural elements that shine through. While the twelve episode-long season will hopefully force some evolution of the main mystery, I fear that there will not be enough time to overcome some very clear writing problems and take the show beyond the mediocrity that the show currently finds itself in.
Rating: 7/10