Contributor: Henry T.
Written by Corinne Brinkerhoff
Directed by Michael Zinberg
I think it's been a while since I saw a new episode of "The Good Wife", and I had forgotten how crisp and fast-moving the show can be. The mood is kept light in this episode, but it doesn't stray into outlandish comedy. In fact, there were plenty of tense dramatic moments where I at least thought that those involved would be caught in a lie. Lies have huge consequences in the legal business and "The Good Wife" has the great sense to show us that from time to time. The season is humming along with this quiet efficiency, and it's impressive to come along and watch as it continues to develop.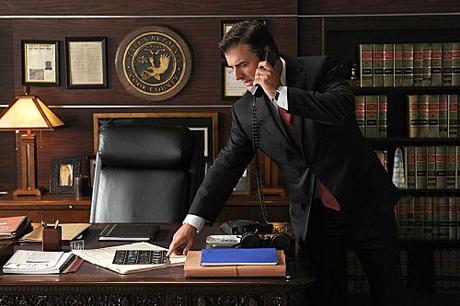 This week, Lockhart-Gardner deals with a divorce case that was thought to have been handled well two years ago. The unique angle here is that the couple has since reconciled and is going after the firm for money owed to them from a lucrative business asset that was lost in the shuffle. Since David Lee handles all of the firm's divorce proceedings, this is his screwup, though he's not going down without a fight. The case opens up a lot of friction between the firm's equity partners (in part because they each are on the hook for $1.2 million) so there's a big incentive to keep the firm from paying the couple the money owed. Since Eli is now an equity partner, this also prompts him to plot ousting Lee and potentially taking over his business.
It's something that isn't all that surprising coming from Eli since he likes being in control and engaging in these internal power plays. He might not win them all, but he could potentially do a lot of damage if he's set on it. I liked that Diane calmly, but firmly, shuts down both Lee and Eli just as the squabbling had reached a fever pitch, threatening to descend the firm into chaos. The notion of women in power I described in an earlier review comes into play here. Diane is impressive throughout the episode, providing a sane voice through proceedings that would have potentially ripped apart the firm from the inside out. I particularly liked her frequent interactions with the process server who keeps hanging around in odd places.
Elsewhere, the pressure gets applied to both Alicia and Will on two different fronts. Alicia was a part of the divorce case two years ago and gets deposed several times in the episode to discuss the particulars of her involvement. The tactics done by the hotshot LA lawyer are intriguing. He first suggests that Alicia influenced the client to divorce by bonding over common experience, with Alicia then embroiled in the scandal that landed Peter in jail. Then the lawyer tries to get Alicia to admit to perjuring herself with the hiring of the stripper to get the husband to cheat on his wife.
The final tactic provided the most tense moment of the episode: whether or not a conflict-of-interest rider clause was signed and logged by Alicia during the initial contract for dissolution of the marriage. The rider is key because it protects the firm from having to pay any of the damages that the couple is currently seeking. At the last moment, the document is found and Alicia absolved from costing the firm a large amount of money. I even liked the way the episode incorporated Cary into the narrative, with him essentially forgiving Diane and Alicia for what happened when he got fired from the firm and killing the hotshot lawyer's entire argument in one fell swoop. It's all nicely played here.
Will's predicament is a little more difficult to figure out. The previous episode dropped the twist that the SAO was going after Peter and not Will, yet it seems like Will is forcing Wendy Scott-Carr's hand in going after indictment. Is it that he knows she's got nothing on him? Or that he's protected in some way the writers have yet to show the audience? Will hires Elsbeth Taiscioni (who is a delight here once again) to put pressure on Wendy Scott-Carr and, in effect, tarnish her reputation with some local judges. Wendy fires back with a full-scale indictment of Will. At this point, it feels like a cat-and-mouse game between these two with something big just lurking around the corner, unseen at this point. I don't quite know what to make of it, but that's what makes it so intriguing to watch.
I hope the rest of the season has episodes as clear-eyed, well-paced, and enjoyable as this one was. Each of the subplots moved forward in a very smooth manner. There should be more friction within the firm as time goes on, especially if Eli continues to learn the ropes and gets better in disguising any power grabs or moves he makes. He hasn't done much this season so I could see him possibly making Diane's work life harder than it already is now if he's motivated enough to do so. That could inform on Alicia and her consideration of Diane's offer to go to the partner track. I'm taking a wait-and-see approach to Will's indictment. Things are getting very juicy in the "The Good Wife" world.
Grade: 8/10