Contributor: Gregg Wright
It would be an oversimplification to say that "Merlin" has seen a steady growth in maturity over the course of its lifetime, as elements of the show's more mature side have been present since the very first season (see "The Beginning of the End"). The show has always shown enormous potential, but the most impressive elements were always overwhelmed by its need to maintain a family-friendly atmosphere and a status quo that had to be maintained from episode to episode, and from season to season.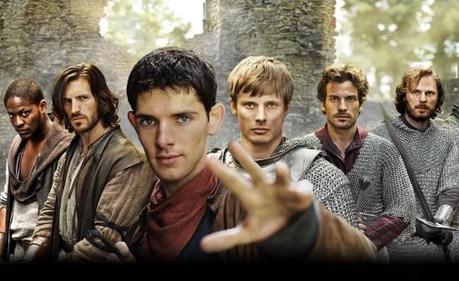 Still, it does seem as though the show has been slowly attempting to break away from these trappings and move towards doing more of the serious, more adult storytelling. The last two episodes of season 2 contained what was easily the darkest material in the show thus far, with Merlin being forced to, among other things, murder a trusted (and corrupted) friend in order to save the kingdom. The murder wasn't successful, but this didn't detract from what was, quite possibly, the show's finest hour up to that point.
Season 3 continued the trend, as the show further attempted to blend its more ambitious elements with the stand-alone stories and family-friendly tone. The season resulted in a couple of truly awful comedy episodes, one of which was, in my opinion, the worst episode the show has ever produced. But still, the third season integrated some interesting, season-spanning story threads, and managed to be pretty strong overall. But most impressive of all was the two-part finale, which all but guaranteed that the following season would be pushing into new territory.
Indeed, every comment from cast and crew leading up to the premiere seemed to further reinforce the possibility that season 4 would be the best one yet. Season 4 was said to be darker and more violent than any previous season. And it was also stated that this season would be avoiding purely stand-alone episodes in favor of a more serialized narrative (or something to that effect). Add to this the major changes in the status quo, such as the formation of the Knights of the Round Table and Arthur becoming the unofficial ruler of Camelot in his father's stead, and you can understand why I felt some excitement about the season.
One of the other great changes made to the show is that it is now being shot on 35mm film (the standard for theatrical films). I don't know for sure what it was being shot on before (my guess would be 16mm film), but it looks noticeably better here. The picture is significantly sharper, and color and contrast also seem better. I might also guess that they're shooting with wider-angle lenses this year, but it may be that they're just shooting more wide shots to take advantage of (and by that I mean "show off") their new film stock, better locations, better sets, and better special effects. It certainly does seem as though the budget has been increased, though I haven't been able to find any concrete information to this effect. Everything looks and sounds better in "Merlin" this year. There's even a new intro (finally).
The premiere picks up about a year after the events of the previous season's finale. A time jump between seasons can be annoying in some shows, but I didn't seem to mind it too much here. Besides, "Merlin" has already utilized the year-long time jump between seasons once already (between seasons 2 and 3). I think it's an understandable decision, given the time delay that viewers must also experience between each season. And dropping the viewer, uninitiated, into a differing status quo does allow for more surprises, which made this premiere more interesting than it might otherwise have been.
One of my biggest worries for the season was that it would find a way to undo all of the impressive changes to the status quo that occurred during the previous season's finale. But it appears that I had no need to worry. The Knights of the Round Table are all still present in Camelot. Morgana seems set to become the primary threat of the season. Uther is still present, and still suffering from his mental breakdown. Arthur, though technically not yet king, has effectively become the acting ruler of Camelot in his father's stead. I'm still disappointed that Arthur hasn't yet learned Merlin's secret, but it does help things quite a bit that Lancelot (who does know Merlin's secret) has now been made a regular. And Arthur is going to have to learn Merlin's secret one of these days.
Morgana is now in full-on supervillainess mode, with a new, more openly gothic look (looking hotter than ever, I might add), greater confidence in her powers, and a new plan to introduce chaos; not just to Camelot, but to the whole of Albion, presumably with the intent to weaken Camelot so Morgana can take control. Personally, I liked the decision to have Morgana be forced to sacrifice Morgause to enact their plan. I think the departure of the character is beneficial (possibly even necessary) for Morgana's evolution into an antagonist who can stand on her own: the Morgan le Fay of legend. Morgana's further descent into darkness, along with the strong foreshadowing of her ultimate fate to become Merlin's arch-nemesis, is exactly what I wanted to see at this point in the show. I'd like to note that Morgana's single-shot, prophetic dream sequence is easily the coolest, most artful moment of the episode.
Morgana's plan seems to entail the opening of some sort of portal to the spirit world, which unleashes the spirits of the dead (called the Dorocha here). It's a rather chilling thought that the dead (a large number of them anyway) become raging, nightmarish monsters that seem to mindlessly kill everyone they come into contact with. These dead people are obviously not at peace. The Dorocha are a remarkably effective creation, and quite possibly the scariest thing I've ever seen on "Merlin". They reminded me (in a good way) of the Ark of the Covenant spirits in "Raiders of the Lost Ark". The episode does an impressive job of creating a sense of dread throughout the episode, slowly building up to the reveal of the spirits, and then skillfully maintaining the tension between attacks. I loved the blood-curdling screams let out by the Dorocha as they fly around out in the darkness, and the terror generated by hearing one of those screams rapidly approaching.
One piece of news that significantly added to my excitement for season 4 of "Merlin" was the casting of Nathaniel Parker in a seemingly villainous role. I'd recently seen Parker in another BBC show, "Injustice" (which starred another of my favorites: James Purefoy). To put it mildly, I was impressed by the performance Parker turned in. And having seen him there, I can easily understand why he was cast in this role. I was, unfortunately, spoiled early on to the fact that Parker's character, Agravaine, would be secretly working on concert with with Morgana. My brother mentioned to me that this reveal was easy to predict ("They even dressed the character in black!"). And that may be true, though I will never know whether I would have found it predictable. Regardless, I enjoyed seeing Parker in the role, and I'm eager to see him as a regular. Right now, the character isn't much more than Morgana's spy, but I have hope that he will be fleshed out into something more interesting as the season progresses.
The music in "Merlin" has been generally good, with some noticeably strong moments throughout the series. I've heard a number of cues seemingly being re-used here and there, so it's unclear to me how much of it has been newly composed. But it is often obvious that old themes are being rephrased and developed as the show progresses. IMDB has three names credited for the music: Robert Lane, Rohan Stevenson, and James Gosling. My attempts to find more concrete information about "Merlin's" music have proven futile. I'd especially like to know who, exactly, is doing the music for this season, as it all sounds original to me. It sounds pretty consistent with the music we've heard before on the show, but sounds like an evolution toward a superior scoring standard for the show. With Murray Gold delivering impressive original music for "Doctor Who" every week, I see no reason why "Merlin" can't attempt to compete with its high standard.
Merlin's sacrifice is very fitting with the character's development thus far. An enormous amount of responsibility has been forced on Merlin, and he's had to face a number of incredibly difficult decisions. Merlin is more confident in his role, and doesn't hesitate before throwing himself into danger to protect Arthur, in spite of his earlier conversation with Gaius over feeling more afraid and powerless than ever. It is, of course, obvious that Merlin will survive his attack. His powers are useless against the Dorocha (for now), but it seems likely that Merlin's resistance to the cold (which must be related to magic) will have something to do with his survival. I do wonder, though, how the others will react to Merlin's seemingly miraculous survival. I hope the writers don't find some convenient way around this, because I like the potential here. Not that Arthur has to discover Merlin's secret immediately, but this could easily be the first step in Arthur's slow road to discovering that Merlin has magic.
So far, season 4 of "Merlin" is off to a tremendously good start. I'm proud to say that I've stuck with "Merlin" all this time, knowing that it had the potential to be so much more. Of course, I do still have some small complaints about the show that I hope are eventually addressed. I'm still a bit annoyed that, after all this time, Merlin hasn't become much more formidable. I can understand the need for him to maintain his inept, slow-witted persona as a cover, and I know that Merlin's inner strength is highlighted much of the time, but I wish that Merlin would start to become a little more capable in dangerous situations (when the situation allows for it). It's also a little weird that he still looks virtually identical to the way he looked in the pilot episode. But these complaints are forgivable, as genuine progress is being made in other important areas. I'm glad that Arthur is growing to respect Merlin for his bravery "between battles". And given that this season seems to be finally be breaking free from the show's formula and moving in a darker, more serialized direction, I think it has a lot of potential to finally allow many other significant changes to the characters and the world they inhabit.
Rating: 9/10