Contributor: John Keegan
I just can't get a good grip on "Grimm". Some episodes are mired in a predictable, tired procedural format, and the end result is just more of the same in a semi-supernatural setting. Others, like the previous episode, are set firmly in the paranormal world that Nick must now navigate. While it's great to see this episode lean more towards the latter, I'm not convinced that the writers have picked a consistent direction yet.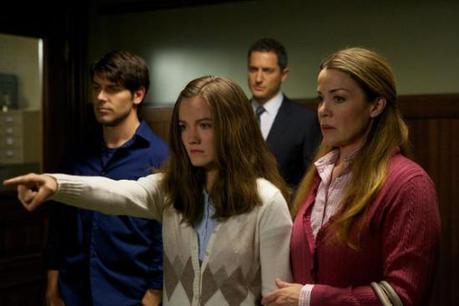 If it hadn't been for the interesting spin on the Rapunzel concept, with the story hinging on the creature world for most of the solid character beats, this could have slipped into the discard pile. The whole issue with the criminal gang was a bit conventional, and it played out in rather predictable fashion. I had no doubt that Holly would play a part in helping Nick and Monroe survive the day, and that she would live.
The fact that Holly was basically the same species as Monroe allowed for some interesting little moments. Considering how many of them were non-vocal in nature, I was intrigued by the notion that Monroe might have been bonding with Holly on more than one level. Granted, she's a teenager with severe issues, so they couldn't take it too far, but I couldn't help but wonder if there was a subtext not unlike the Pon Farr scenes from "Star Trek III: The Search for Spock", only more applicable to pain management and self-control.
That's not to say that there weren't some oddities in the plot logic. I'm more convinced with each new episode that Hank should be brought into Nick's world in a more complete manner. If nothing else, it would give him a better sense of what he is dealing with; perhaps as Nick gets a better feel for the creature world, he will recognize that ignorance endangers Hank the longer it continues.
But other than giving Claudia Christian's character a happy ending, what was the purpose of bringing Holly right to her old house? Wouldn't it have made a lot more sense to have her reunited with her mother under far more controlled conditions? After all, Holly had been missing and surviving in the woods on her own for longer than she was a happy suburban child. The whole creature aspect aside, wouldn't they be worried about the mother's safety? (Though, I'm confused as to whether or not Holly was genetically a creature; that might have been something the writers assumed the audience would take as a given.)
It's quickly becoming clear that Monroe is the most compelling character on the show at the moment, and the writers will have to be very careful to ensure that Nick (and even Hank) are given more compelling material to balance it all out. One running subplot seems to center on how Nick is different from other Grimms, and it might be time for the writers to focus on that element. What makes Nick so special, even as compared to his own "kind"? Giving us a solid answer to that question is vital to the show's survival.
Writing: 2/2
Acting: 2/2
Direction: 2/2
Style: 1/4
Final Rating: 7/10