Contributor: Edmund B.
The test of a new series is not just in producing compelling episodes that keep viewers coming back; it's how it responds after a lackluster effort. We've already seen new shows this season, like "Person of Interest" or "Grimm", which have shrugged off mediocre efforts with a return to excellence. After the unfortunate foray with Cinderella, "Once Upon A Time" continues this trend with "That Still Small Voice".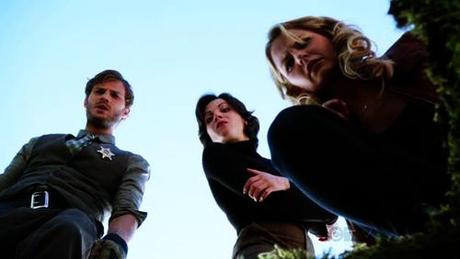 It helped that the focus returned to the main cast, this time in the person of Dr. Archie Hopper, aka Jiminy Cricket (Raphael Sbarge). This also returns the focus to whether Henry's making all of this up, as Mayor Regina delivers the ultimatum to eradicate Henry's delusion…or else.
Meanwhile, the sheriff offers Emma the post of Deputy, and the moment she dons the badge, a sinkhole opens up over an abandoned mine. In Henry's eyes, this is further evidence of cracks in the curse brought on by Emma's arrival. For the Mayor, it's an opportunity to deliver some hilarious reassurances, and boss Emma around, now that she can.
Dr. Hopper, succumbing to the Mayor's pressure, goes against his instincts and applies some verbal shock therapy to Henry. Which only drives Henry into the collapsed mine to search for proof. With no collie in the cast, it's left to Emma and Regina to bare their claws over his rescue. They leave Dr. Hopper free to pick up Lassie's mantle and attempt the rescue.
The Cinderella episode also toyed with the moral of taking control of one's life, before subverting it with wands and fairy dust. Here, the message gets another, more successful, spin, in two different arenas. We briefly return to Mary Margaret and John Doe, who is increasingly happier with his new friend than his forgotten wife. This storyline continues to play the truest on the Storybrooke side. Josh Dallas and Ginnifer Goodwin have great, wistful chemistry. But Mary Margaret must resign in the face of illicit temptation, and the steadfast wife. The fairy-tale ending will have to wait a while longer. (Although, if previews could be trusted, perhaps not too much longer!)
Sometimes taking control of one's life means overcoming bad parents, something Henry and Jiminy have in common. The fairy-tale flashbacks detail Jiminy's horrible childhood of exploitation at the hands of his grifter carnie parents. His longing to be free of them leads him to Rumplestiltskin for a nasty potion. The increasing number of pies Rumplestiltskin has stuck his thumb in is establishing him as a stealthy rival to the queen in evil machination. Not to mention providing Robert Carlyle the chance to contrast the deliriously menacing with the coolly sinister Mr. Gold.
The writers pull off another nice bit of fairy-tale revisionist exposition. Jiminy's plans go awry, and his potion winds up in the hands of his parents' latest rubes. The rubes are transformed into dolls, and Jiminy offers his life to atone for his mistake. He, in turn, is transformed into one of his beloved crickets, and tasked with shepherding through life his victims' young son, Gepetto. This also neatly explains why Gepetto is obsessed with animating puppets. He doesn't want a son; he needs to get over his Mommy and Daddy issues. (Although, if he ever finds out his best buddy, the bug, was responsible, look out!)
I thought, for a moment, the show was going to go dark, and have a fatal plunge mirror Jiminy's fairy-tale fate. However, not only is this ABC/Disney and what was once called the "Family Hour", but a near-death experience causing his conscience and back-bone to resurface is a much more apt analog.
I still think Jared Gilmore's less-than-convincing portrayal of Henry may be deliberate. If he's less than convincing about the existence of the fairy-tale world, it's easier to maintain that it's all in his head, however compelling the on-screen extrapolations may be. However, the appearance of certain glass shards, and the mayor's uneasy disposal of them, may signal the abandonment of that ruse.
I'm sure I wasn't the only "Lost" fan who thought that turning an underground wheel might auger some shifts in perspective. (The Apollo bar, though, was just eye candy.) However, this time, if they do all turn out to be in a certain state and just working through their issues, I will be annoyed. Or maybe not. It all depends on the set up, which "Once Upon A Time" has, once again, returned to doing well.
Writing: 2/2
Acting: 2/2
Direction: 2/2
Style: 2/4
Final Rating: 8/10