Contributor: Henry T.
Written by Phil Klemmer
Directed by Paul Marks
I think the best thing I got coming out of this episode of "Chuck" was the commitment to its premise. I have made no bones about the fact that I didn't like giving Morgan the Intersect program and this episode showed why it was not a great idea in the first place. The writers commit to making Morgan as irritating and un-Morgan-like and then provide a natural out to get those in Carmichael Industries back to normal. That will likely be saved for next episode, but here, Chuck works out all of the issues he has with Morgan's possession of the Intersect. Everyone else informs on that main plot.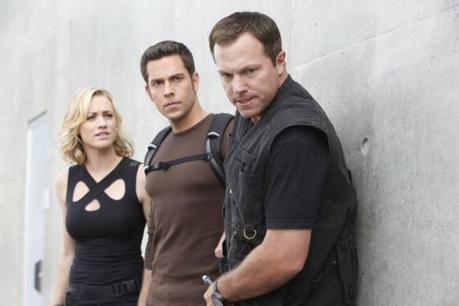 Whereas last episode, it was a given that Chuck failed as a handler, thus compelling Morgan to work with Verbanski Corp, it's much more personal here. Morgan becomes an unbearable personality, complete with douchebag traits like dumping Alex via text, frosting the tips of his hair, and wearing Ed Hardy cologne. Chuck can't get through to him because the personality has completely taken over. It initially looked like the Intersect was warping Morgan's mind. What actually is happening is that the Intersect itself is corrupt. Since Beckman (who was a welcome presence after being absent since last season) didn't send the team the new Intersect glasses, naturally it had to be Decker or someone close to Decker.
It's something quite insidious to wonder what would've happened if Chuck had put on the glasses. Does Chuck's good nature win over the bad roots of the new Intersect? Whatever the case may be, it was enjoyable to see Chuck work his way through the problems he had with Morgan. He drew on a shared collective memory from their past and I liked that it paid off in the end with Morgan's facial hair prowess factoring into the final solution. Just imagining how facial hair could be put in a sandwich provides a good laugh, as does the silly fight atop the Verbanski headquarters with the "Matrix" homage followed by Chuck's de-pantsing of Morgan. That part was just funny because Chuck revealed to the audience (and Sarah) beforehand how Morgan got humiliated when he was younger.
As for the other members of Carmichael Industries, they had some good moments here. Sarah got to be the mediator between Chuck and Morgan's twisted best friend relationship and a pretty funny fight with Verbanski. Casey gets some rather physical foreplay with Verbanski as well and at one point, I actually shouted at the screen for them to make out already and get it done with. I don't mind Casey getting a meaty subplot to play with, but if they drag out this "chemistry" between the two characters to say, the middle of the season, it's going to get tiresome.
I thought Casey almost snapping at Morgan for being such an irritatant in the beginning was much more funny. Casey and Morgan has been a combination that has largely worked comedically during the show's run so it's quite amusing for them to work through this short amount of tension that comes up due to the corrupted Intersect.
The subplot with Jeff, Captain Awesome, and the Buy More felt like an outlier, but provided some good laughs away from the main plot. I don't really want to see more of Captain Awesome being a stay-at-home dad (because he would be awesome at it, and where else can they go with that?) so getting him to "save" Jeff from carbon monoxide poisoning was a solid choice. Jeff and Lester being overly goofy seems to have run its course. However, I think a cogent and clear-thinking Jeff is possibly even more terrifying than the way he was before. What will Lester do now that he doesn't have his partner in crime to bounce ideas off of? The Buy More, and possibly the world at large, is doomed.
Now that Carmichael Industries has figured out what's wrong with the Intersect, there's a purpose and drive to the story. They have to focus on getting to Decker and finding a way to take him down. I think this is coming very quickly, simply because the fifth season is so abbreviated. The good thing about that is the brevity keeps away the excess fat from both the episodes to follow and the season overall, but the downside is that events will feel rushed. Take what you can get these days for "Chuck" and I think the writers are focused on taking the story to its natural endpoint. I should hope there is more of this to come.
Grade: 9/10