Contributor: Henry T.
Written by Leonard Dick
Directed by Brooke Kennedy
I can't remember the last time this show produced an episode this dense. It had everything in it. Legal drama, with Lockhart-Gardner taking on the US government; Romantic developments, as it looks like Will and Alicia's affair has been revealed in an offhand manner; Backroom dealing in the form of Peter using his underlings to fire a warning shot at Will for his past transgressions. The characters are besieged on all sides here, which is a natural advancement of the complication phase in the season's overall arc. Even in the midst of all these serious transgressions, there was levity, more so than "The Good Wife" has ever shown, I think.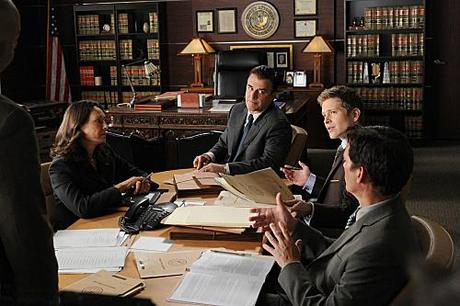 It all starts with a lawsuit brought to the US government by one of Lockhart-Gardner's clients, claiming he'd been illegally tortured in a military prison probably not unlike Abu Ghirab. None of the testifying witnesses can say much of anything about the incident in question because post-9/11 laws have kept military "interrogations" secret. Basically, Diane and Alicia operate on hearsay evidence that they do not see and have no access whatsoever. Glenn Childs then shows up — a complete surprise because I thought we'd never see him again — and tells the court the government is now bringing charges against the client for alleged ties to a terrorist.
Under the titular "Executive Order 13224″, they effectively force Alicia to break attorney-client privilege in order to prove that Marwat, the firm's client, has ties to terrorists. It's complicated (What else is new in this post-9/11 world?), and I don't think I explained it very well, but it's at this point where the tension is ratcheted up a notch. A Treasury Department official named Higgs (Bob Balaban) is sent in to "monitor" the case, in effect, ask Alicia some questions about the firm's involvement with a potential terrorist in Marwat. The initial questioning starts out innocently enough, then a question gets into some moral gray areas where Alicia would definitely be breaking the attorney-client privilege, and in effect, show that Lockhart-Gardner has been protecting a terrorist. The firm works to maneuver its way out of this predicament, but it's touchy because it would involve potentially lying to the US government.
The exchanges between Alicia and Higgs have this very immediate feel to it, which adds to both Alicia and the audience's unease about the whole situation. Higgs doesn't look or sound menacing, but this is a matter involving possible terrorism and he can bring it quietly when he has to do so. The firm in uncharted waters here, and they're not quite sure what the correct play is. The show is only better when our heroes are put to the test.
Alicia is worried she might get her client in trouble as well as herself (for perjury to the government) so she hires a lawyer to represent her in the meetings with Higgs. Elsbeth, the loopy lawyer, was a surprising delight in an episode full of them. She has the appearance of not quite being all there mentally, but she devises a great delaying tactic in order to keep her client away from jail. She's very funny when interacting with Higgs and running legal circles around him. I also found the visualization of the redacted military testimony quite hilarious, with the constant bleeps in the middle of all these serious statements. Everyone is on their toes and game in this episode, and for now, Marwat is free and clear. Is Lockhart-Gardner going to regret their defending a terrorist in the future? We may never know.
Adding to the besieged feeling throughout the episode is the fact that Peter tries to put the clamps on Will. He goes after the drug money from Lockhart-Gardner's relationship with notable drug dealer Lemond Bishop. But there is a feeling of some hostility held back on Peter's part. One can't help but side with Will on this issue: Peter is holding a grudge due to the fact that Will is having an affair with Alicia, and is coming after Will for anything he can pin him on. I wrote last season that Will and Alicia's clandestine affair would have long-lasting consequences, and they're in some of them now.
Putting aside the fact that Diane and Kalinda now know about the affair accidentally, Will's past transgressions could come back to bite not only him, but Alicia as well. This is all handled with so much better grace than Celeste hinting at things in past episodes. I got the sense that Peter isn't done coming after Will. Will also seems unwilling to back down from a fight. I thought they might come to blows in their meeting at the near end of the episode, but the show wisely steps back from that.
It doesn't feel as heavy as the other subplots, but sprinkled throughout the episode are troubling signs for Will and Alicia's affair. Diane swiftly moves to remind Will that co-workers sleeping together are not to be tolerated. She doesn't quite come out and say it to Will because she uses the firm's insurance agent to warn him about what she now strongly suspects. I predict that they will come to a full-blown argument about this at a later time. It's going to eventually come out in the open, and it will be ugly once it does.
There was so much happening in this episode that Grace's flirtation with religion once again sits in the background. I sometimes thought it might not have been necessary here. It does demonstrate that since she has a fractured home life, she's resorted to lying in order to get her way. Given my general distaste for anything involving the teenage characters, I could have easily rolled my eyes if they were the focus of the story. Thankfully, it was a small part of it. Nevertheless, I really enjoyed what I saw here. It was a lot to digest and think about afterwards, and that doesn't happen too often for me when I watch episodic television. What an episode.
Grade: 9/10