Contributor: Henry T.
Written by Rafe Judkins and Lauren LeFranc
Directed by Patrick Norris
Shifting focus from Chuck to Morgan was certainly going to have consequences. One of those consequences that I couldn't foresee was that the Intersect threw this wedge between the two. The Intersect would seem to bring out, in addition to superior fighting skills, the best and worst aspects of its user. If used correctly, as Chuck did for four years, it can be a definite asset. If used incorrectly, and though it's early, seems to be where Morgan is headed, it can be dangerous. Chuck's leadership skills as the head of Carmichael Industries is about to get tested. Due to the fact that this is a short season, the plot is going to feel more rushed than usual.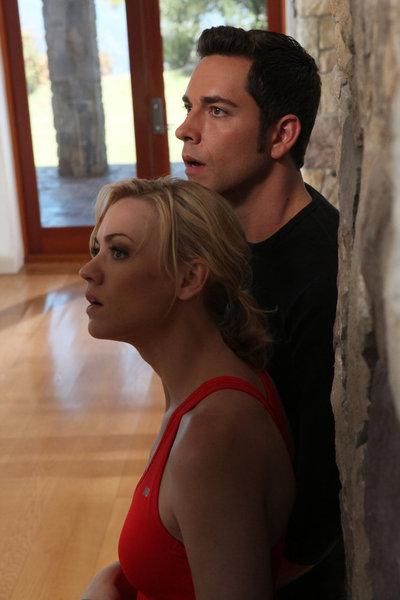 If anything, the events of this episode demonstrated the impact of having Casey and Sarah as Chuck's support system in prior seasons. Chuck has been assigned to be Morgan's handler and it turns out to be an unmitigated disaster. Morgan is operating without a proper example to live up to and that makes him more a vigilante than a spy. To be fair, this is Chuck's first time being a handler of a major asset. He doesn't know what to do either, and it's not just because Morgan is his best friend. The fact that they are friends interferes with Chuck's duties as a handler, and that is something Sarah (who has experience as Chuck's handler) should have recognized.
Reining in Morgan should have been a group effort on the part of Carmichael Industries. Sarah and Casey should have known earlier that this was a problem and addressed it as such. Now, the possibility could exist that Morgan works against Carmichael Industries as he joins Verbanski's outfit. That final scene was a product of this short season of "Chuck." Normally, that's a reveal that probably doesn't happen until episode four or episode seven in a normal 22-episode network season. Introducing that bit of plot this early means that may be the first of many plot points the writers will accelerate.
I'm also surprised they introduced Verbanski as competition this early. It makes clear the disparity by which Carmichael Industries is operating currently. They have money problems simply because their only source of funding isn't making money. I liked the subplot with the return of Big Mike to the store because not only was it funny, it tied into what was going on with Chuck and Carmichael Industries. If the Buy More has no customers, Carmichael Industries cannot function.
I doubt that just one commercial would drum up profits to keep them in the black (What about online social media?), but Captain Awesome proves the next best option. After years of hot women strolling through the store, it's just amusing to me that Awesome gets the wind machine treatment. I was surprised he didn't come in and immediately take off his shirt or something. Jeffster! may be beloved in the "Chuck universe, but they're definitely not going to bring up more sales.
There were worries in past seasons that Chuck would no longer be the lovable nerd everyone could relate to once he mastered his Intersect abilities. That looks to be the case with Morgan. He misses the more obvious degradations to his nerd intellect by not getting Chuck's Indiana Jones reference and not knowing who Luke Skywalker was. The Intersect is highlighting Morgan's more petty and annoying personality aspects because he feels left out by the rest of the team. It's a very insidious thing to do. Morgan doesn't have any guidance and is now working for someone who will exploit what's in his head. Could it be possible that Morgan ends up the bad guy Chuck and company have to fight this season?
"Chuck" still feels like it's unsure of where it's going in this final season. Like the season premiere, they might still be working some kinks out. Verbanski is a wild card in the whole situation (and it's hard not to see that they would be a substitute for the US government) with Morgan on her side and possibly recruiting Casey as well. There looks to be more to the backstory of that relationship. Casey hasn't had a decent subplot of his own in maybe two seasons. I mentioned in the review for the premiere that the team would be fine as long as Chuck grew as their leader. He may have to do it without his best friend. That's just the beginning of many major obstacles for the team now and his resolve as team leader is being tested. Let's hope things turn out fine in the end.
Grade: 7/10