Contributor: Henry T.
Story by Julia Wolfe
Teleplay by Robert and Michelle King
Directed by David Platt
This episode made me want to get a lawyer. I wanted a lawyer in the room, watching the episode with me so that I could better understand it. I'm an ordinary person and I suspect most of this show's audience isn't in the legal profession by trade so I wonder how much of the audience was just as lost as I was during all of the monetary negotiations between Will, Alicia, and Celeste. I want to be entertained when I sit down to watch this series. It doesn't help when the plot mechanics give me a headache by the end. The B-plot should be able to pick up the slack, but it proved more silly than anything else. It boiled down to Eli just yelling a lot at people. That's normally something enjoyable here. It really ended up being a screwball comedy of sorts that relied again on culled-from-current-events to dress it up as relevant.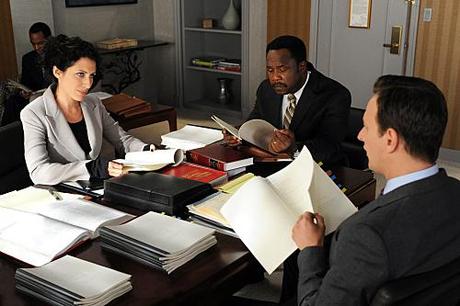 Near as I can tell, "The Good Wife" tried changing formats with the Case of The Week. While I appreciate staying away from the standard battles in the courtroom, it became confusing when both sides were throwing around various settlement amounts and trying to figure out who was bluffing or not. It came off as petty, especially with the awkward manner in which both Celeste was introduced as well as the revelation that she and Will previously dated. So it then looks like a love triangle with some legal power plays mixed in. I didn't feel the change in format worked. Will is telling Alicia, his new lover, to fake jealousy to get Celeste to commit to their price. I found it a little hard to swallow Alicia just taking all of it without protest.
It certainly doesn't make Will look any better. Celeste claims to know Will from the time they had been dating, and tries to play on those feelings, but it doesn't seem to faze Will. He is still the cold, calculating operator whose only interest is the bottom line. As a result of this shared philosophy between the two sides, the clients for both, as well as the mediator, are largely ignored in favor of this light squabble. It never really sat well with me, and that showed at the end when Alicia is talking to the mediator. He tells her that her side won (of course), but it rang hollow because they had to manipulate the mediator in order to do it. Does Alicia feel bad about this? I doubt it. Is it going to continue? Probably so, especially since Celeste is going to linger around as a recurring character, possibly getting folded into Lockhart/Gardner. I don't think this is the last we've seen of her. A better case might be in order for me to care, however.
The Crisis of The Week for Eli ran into the ripped-from-the-headlines buzzsaw again. A listeria food outbreak occurs at a school and it's traced to some rancid cheese. There was a scare a couple of weeks ago in the real world, relative to the episode's first run, over a listeria outbreak traced to some bad cantaloupe. Like Alicia and Will's mediation case, however, the clients are marginalized in favor of other things like Eli and Diane bickering about opposing public relations strategies. So far, sticking Eli in public relations and crisis management isn't working for me. I liked Eli when he was a slick political operative and one who relished being smarter than everyone else and rubbing a victory in people's faces. He has been saddled with two subplots that aren't well-integrated into the show's narrative so far and comes off making him look silly, or worse, irrelevant. Much of the episode was too silly to really take seriously. My hope is that Eli doesn't become like Alicia's kids, another couple of characters who didn't do much in this episode and feel like unnecessary appendages.
This episode didn't make me upset so much as a tiny bit frustrated. I know the series can do so much better. I give it enough slack that I think this is just a bump in the road until they move along to better stories. An example of the odd tone this episode adopted was in the subplot of Alicia's brother trying to get her to admit to her affair with Will. She doesn't give him any concrete answers. All of it just feels rather harmless and doesn't move the larger overall plot along. If this continues, there will be cause for concern. For now, I'll have to give the show a pass.
Grade: 6/10