Contributor: Edmund B.
When "Person of Interest" was first announced, my initial excitement at this latest addition to the J.J. Abrams oeuvre, especially the return of Michael Emerson, was tempered by a little history. Would this show continue the stellar run of "Lost" and "Fringe", or hearken back to more problematic forebears like "Alias", or, heaven forbid, "Undercovers"? In addition, casting Jim Caviezel alongside Mr. Emerson dredged up unfortunate memories of AMC's ill-conceived "Prisoner" remake, if only at the prospect of again seeing Mr. Caviezel acted off the screen by his more talented co-star.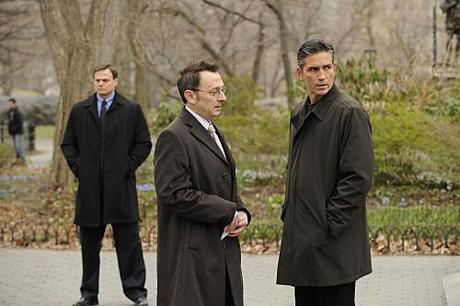 After the pilot, the trend is more towards the former than the latter. Pilots always have to contend with pushing out the crucial information while avoiding clunky exposition dumps. This one largely succeeded at maintaining a strong narrative flow, aided by a setup that has Reese (Caviezel) thrown in at the deep end. He's struggling to figure out what's going on, along with the viewer, a very effective approach for a pilot. Having two main characters with lots of secrets that they're keeping hold of helps, too. There was no need to tell us everything, just enough to whet our appetites.
On the surface, Reese is a familiar trope, the fallen, disillusioned super soldier. I was amused that the producers apparently borrowed the beach-side tent from "Covert Affairs" as the setting for the framing incident from his past. In this case, the payoff was a tad darker as the clues of a Tuesday about ten years ago coalesce into the morning of 9/11. The details of how he got from retiring to be with his sweetheart to a homeless drunk on the subway will undoubtedly be (sparingly) revealed over time. For now, all we need to know is that, even full of rye, he can take out a bunch of street punks. (And the hair department isn't going to win any awards for the brillo pad beard they stuck on him.)
That scuffle serves to introduce Reese to the two characters who will drive the action. First, Detective Carter, who promises to be the hapless official a step behind our heroes. And then, finally, the meeting we've been waiting for, Reese is introduced to Finch. Michael Emerson does not disappoint as the shadowy figure who recruits Reese to be his chosen vigilante.Finch knows who bad things are going to happen to; he needs Reese to find out the what, why, where, and, of course, stop it. After some expected verbal fencing, and less expected illustrative kidnapping, Reese signs on.
In the opener, the specific case presented felt a little pro forma, and this may be the stumbling block for the show. After making such a point that these people could be victim or perpetrator, the twist with the young DA was a little too easy to predict. I also hope they dial back on Reese as a one-man army. I know his friends from the subway were more "Gang that couldn't shoot straight" than "The Sopranos", but his take-down of them did stretch my suspension of disbelief.As did his close scrutiny of Detective Carter. He'd better keep a little more distance; I don't think losing the brillo pad is going to fool her for long.
As the show progressed, I was having some trouble with the overall concept. With so many resources at his disposal, it was hard to understand why Finch's knowledge of these people of interest was so limited. However, that question was wrapped up, to my satisfaction, anyway, by the end of the episode. Despite the conceits of shows like "MI5/Spooks", surveillance devices are mostly used to gather evidence after a crime has been committed. The concept of Finch developing a system that is actually predictive, then being able to leave only the barest minimum of back-doors after he realizesthe monster he's created, holds up for me. The fact that both of them are officially dead took care of my puzzlement about why no-one in power was monitoring Finch's activities.
The more we learn about Finch, the more echoes of "Lost"'s Benjamin Linus I'm hearing. And that's not a bad thing. I'll be more than happy to watch Mr. Emerson play another manipulative, arrogant genius, trying to navigate against powerful outside forces. Mr. Caviezel has never been a favorite of mine, but seems more than adequate to play the damaged, but coolly efficient Reese. At least, he's playing a character far less confoundingly confused than his turn as 6.
Elsewhere in the podosphere, based on previews, I had speculated whether this show might prove a worthier follow-on to "The Prisoner" than the re-make. Certainly the concept of powers-that-be, equipped with massive, pervasive surveillance, being subverted by men who don't officially exist, bears some hallmarks of that show. But, upon viewing it, the show itmost reminds me of is "The Equalizer", with Reese taking the mantle of the principled, straight-forward Robert McCall, and Finch filling the devious shoes of Control. This was another case-of-the-week show, made compelling by strong characters, great acting, and the occasional resurgence of demons from their past. If "Person of Interest" chooses to follow that model, I look forward to an equally compelling run.
Writing: 1/2
Acting: 2/2
Direction: 2/2
Style: 2/4
Total: 7/10