Contributor: Gregg Wright
I actually expected this episode to kick off a two-parter and include the actual launch of the Astraeus; neither of which turned out to be the case. But the episode made up for this in a number of ways.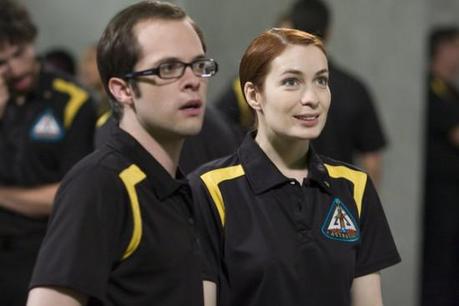 For one thing, this is Deputy Andy's biggest episode yet, and I'm a huge fan of Deputy Andy. It's awesome that Deputy Andy got sent to Titan (and that Carter got to "virtually" stand on Titan himself). It gives us a chance to see the surface of Titan first-hand, and puts Andy's wonderful positivity to the test. I love how Kavan Smith plays the character in these scenes. He adds a surprising amount of depth to the character with just his performance. His positive attitude never really gives out, but Andy's serious, more human side is showcased more heavily than ever before.
Colin Ferguson really sells it in that scene with SARAH, where he has to give her the bad news. It can't be easy to get so convincingly emotional while telling an intelligent house that her robot boyfriend is trapped on a moon of Saturn, and might not make it. The whole episode did a surprisingly good job of selling me on the possibility that Andy might actually die, and that a relationship between a robot and a house could be as charming and heartfelt as any human relationship.
And Taggart is back! How hilarious was Taggart and Jack's reunion? I've really missed this character, and I wish he'd become a regular again next season. Matt Frewer is a lot of fun in the role. I liked that his return resulted in Jo and Taggart's past relationship (which existed to varying extents in different timelines) being brought up again. It makes sense that, had things happened slightly differently, Jo and Taggart would have gone a bit further with their relationship and Taggart would eventually try to tie the knot. I think it adds a nice layer to Taggart 2.0 that he was deeply hurt by Jo's rejection, and had to go on Walkabout to make peace with himself. (On a related note, I like that the Eureka Five are still making discoveries about the altered timeline, and having to deal with the consequences of these discoveries.)
I liked that Isaac Parrish was made an alternate for the Astraeus mission. It makes sense, and it was a nice way to keep him involved in the story. It even resulted in him (momentarily) being made a full member of the mission. I'm actually feeling a bit sorry for Parrish right now. He may be an ass, but he wants to be an astronaut so badly, and he had his once chance ripped from him by a freak accident. It's hard not to sympathize with him at least a little bit.
Despite my overall satisfaction with the episode, I will say that the "melting" plot (or "protonation" plot, if you prefer), which serves as the main threat to the town during the episode, seemed a bit weak compared to threats in previous episodes. I liked the bats, and the connection with Taggart's arrival in Eureka, but the science of the situation wasn't made very clear. And the whole plot thread was greatly overshadowed by the drama on Titan, which thankfully went a long way toward making up for other weaknesses in the episode.
The pre-season finale of season 4 continues the remarkable trend in consistency "Eureka" has maintained for this half of the season, and the season as a whole, to a slightly lesser extent. At this point in the season, my only real worry is that the Consortium threat will be ignored until the following season. It would make a lot more sense for them to play a part in the finale as the Astraeus mission is underway, considering the show's focus on them this season. Their appearances have been brief in this half of the season, but they've been quite obviously building toward something major.
Rating: 8/10