Picking up where the previous episode left off, Pete wants to understand how his mother could possibly be a Regent, while Myka and Claudia team up to deal with the usual deadly artifact chase. Oh, and there's a bit of Mrs. Frederick, which is a very good thing. All in all, the third season of "Warehouse 13" continues to build on its strong start.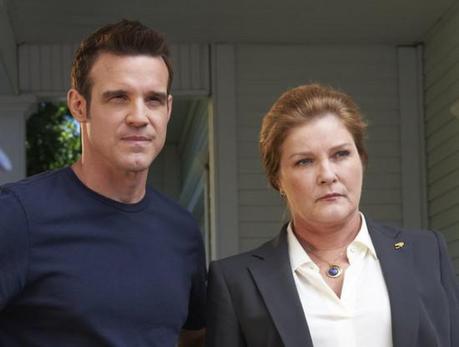 Mrs. Frederick mentions that the war against the Regents has been traced to a company called A-Z Tech Recovery, and Pete's mother (Jane) seems to remember something like that. Of course, there just happens to be an artifact with the ability to allow people to walk through their memories, and Pete is hardly going to let his mother go it alone. So not only do we get some answers about the shadowy figure leading the anti-Warehouse charge, but we get some insight into Pete's upbringing.
There are a lot of interesting little details about the past in this episode, but I'll focus on the ones that come immediately to mind. So were all those hints about Pete's father and his death supposed to suggest that he was once an agent of the Warehouse, along with Jane. Or was she taking his spot among the Regents? Either way, sounds like Pete's family was knee-deep in the Warehouse from long before he came into the picture. I think the connection to the villain (played by Anthony Michael Hall, which is a very good thing) was a bit tenuous, but it does make the whole war a lot more personal, since Jane is ultimately going to be the target.
But was the fact that Mrs. Frederick looked exactly the same in both time periods a new piece of information? I seem to recall a flashback where she was younger, but I may be thinking of someone else (or even a different series entirely). Even so, I wonder at what that might mean, in terms of the role of the Warehouse caretaker. Is this just something that I missed along the way?
As far as the rest of the story went, it was interesting seeing Myka and Claudia working as a team. I can't remember the last time the two of them were in the field together as a duo, but it helped to demonstrate just how far Claudia has come in terms of being an agent. Working with Jinks really helped her gain some confidence, I think.
It was also nice to see Alessandra Torresani back on our screens. Was the whole concept of her being harassed by a nerdy stalker a bit of a take on her post-"Caprica" status? Perhaps not, but this was a very different role from what we're used to, and I liked seeing her bond somewhat with Claudia. It didn't hurt that the writers made her frayed psychological state believable.
There's still a bit of time before the season finale, so I'm wondering just where the arc is going to go before the final showdown. I assume we'll see the inevitable recruitment of Jinks to the dark side, and the seeming betrayal of the Warehouse team accordingly. And we might get more insight into the Regents along the way. Whatever the case, this season continues to demonstrate how "Warehouse 13" has hit its stride.
Writing: 2/2
Acting: 2/2
Direction: 2/2
Style: 2/4
Final Rating: 8/10