Contributor: Henry T.
Written by Sam Catlin and George Mastras
Directed by Johan Renck
I find it interesting that Gus was effectively in the same place that Walt is in now. It had to take some time in order for Gus to get to where he is. If Walt wants to do the same, it may cost a lot of people their lives. Can he live with so much blood on his hands? We'll see!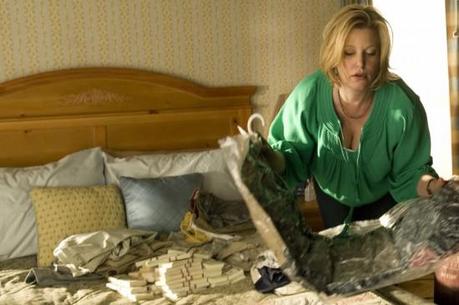 This episode effectively filled in the gaps about the past of Gustavo Fring. Some might not like this because it does, in effect, put Walt, essentially the lead character of the series, on the sidelines once again. To me, it felt a little repetitive at first. Then I realized that it's only demonstrating the cyclical and chaotic nature of the drug business. Hank's fervent pursuit of the Gus Fring lead brings this about and I think it will be nice to watch how all this turns out. The episode was a character piece more than moving the plot along. It will still be there, but I did wonder by the end of the episode whether Gus has any more control over the situation at hand than Walt does.
The theme of the episode is espoused in the very first scene of the cold open. Walt is discussing the agency in his life as of right now. He's in the changing room of a hospital and a fellow cancer patient is talking about his cancer scare being effectively the end of his life. Walt doesn't think so. He took charge of his life, and we've seen the end results of it. He doesn't allow for his cancer to beat him, just as the fellow cancer patient is thinking that his life is over with a cancer diagnosis. Yet, while Walt is in remission, it seems that any number of things could get him killed.
First in line would be Gus, who is revealed to be the sole person behind the lab's unblinking camera. Walt likes to think he has the power and has agency over his life and his family's future. That's not really the case, and that is shown in the small conversation between him and Gus at Los Pollos Hermanos about the tracker and in the following scene, where Walt is screaming apologetically to the camera. Walt doesn't look more pathetic than when he was apologizing ostensibly to Gus through the camera. All the while, he's still plotting behind Gus' back with Jesse.
The fellow cancer patient may be correct. When man plans, God may laugh at Walter W