Contributor: Gregg Wright
After the previous episode's conclusion to the mid-season two-parter, it makes sense for "Doctor Who" to deliver a more low-key, stand-alone episode at this point. This is the fourth writing job on "Doctor Who" for Mark Gatiss (apparently, writing for "Doctor Who" was the fulfillment of a lifelong dream for Gatiss). His first two episodes for the show were good stand-alone stories, while the third one was a Dalek-centric disaster of an episode (the worst of the season, in my opinion).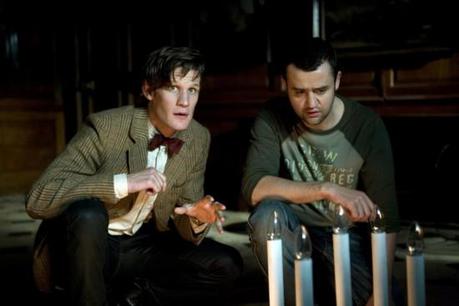 Thankfully, "Night Terrors" is a very respectable monster-of-the-week episode, with a rather heartwarming emotional center. I often get a little tired of how over-the-top "Doctor Who" can be, so I appreciated that we got something a little more grounded in reality. The setting is not another planet, or the future, or the past; it's an apartment complex in present day. More specifically, it's a scared little boy's bedroom in an apartment complex in present day.
It's a fairly, simple, straightforward story. But the writing, acting, and direction are all good enough to elevate it to an above-average level. My enjoyment of the episode rested a lot on how well the two primary guest characters worked. Good child actors are so hard to come by, but Jamie Oram is well-cast; as is Daniel Mays as his father, Alex (I liked Mays quite a bit in the ill-fated "Outcasts"). Alex's role in the story is just as substantial and important as George's. In fact, he's integral to the resolution of the conflict.
"Night Terrors" lacks the edge of some of best scary episodes of the series, but it's still one of the spookier and more atmospheric of the show's run. Likewise, though the Peg Dolls aren't quite as creepy as past monsters like the Angels, the Vashta Nerada, or possibly even the unnamed aliens in the season 6 premiere, they're still an effective creation, memorable in how their simplicity is used to amplify their creepiness.
While not a truly extraordinary episode, "Night Terrors" is a well-executed stand-alone episode that left me feeling satisfied. Some may be disappointed at the lack of connection with the bigger story arc (aside from the tacked-on reference to the Doctor's impending death at the end), but as The Doctor himself essentially says before the opening credits, we haven't seen a "Doctor Who" story like this in a while, and personally, I'd grown to miss it. I hope that Mark Gatiss will return to write an episode (or more) for season 7.
Rating: 8/10